Sunday, June 26, 2005
*~*~*~*~*~*~*~*~*~*~*~*~*~*~
Just came back from Tekan session..
It was kinda fun but no photos as yet cos I didnt get to take any.. Photos with gerald, will post them when they are ready..
Saturday, okasan came from Japan and me and xin went to bring them around. We first went to Maxwell Market to eat the famous Zhen Zhen porridge.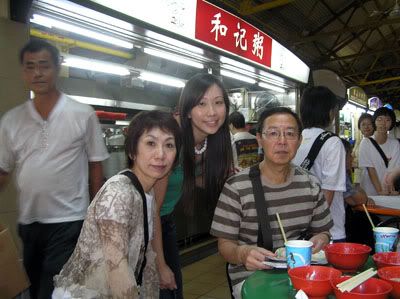 Okie.. we took the wrong photo.. we
DIDNT
eat at this stall..
Actually, it's just normal porridge I think.. nothing really fantastic but the queue was really darn long.. We next walk around chinatown and even went into the Chinatown Heritage Center to see how our ancesters lived..
Lunch! We went to Wah Lok Restaurant in Carlton Hotel who has really the nicest CHAR SIEW bao I have ever eaten.
*frankly speaking, i have never liked char siew bao, but their dim sum is really affordable and not bad!*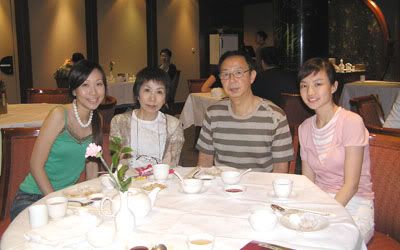 Both of them were rather tired as they checked into the hotel 3am in the morning and didnt get much sleep.I didnt too okie.. I woke at 5am on saturday to fetch that guy can...quarrel again just now.. I just knew it, always like dat.
WASTE my time, WASTE my effort, WASTE EVERYTHING!
Anyway.. back to happier stuff..we went for FOOT REFLEXOLOGY after that. I have this phobia for foot reflexology as I watched too many episodes of Shao Nian Te Gong Dui where they treated their guests to foot reflexology sessions and they were screaming like MAD. But Kenko dont use knuckles to press, they use their thumb. :)
See..my ugly feet under torture.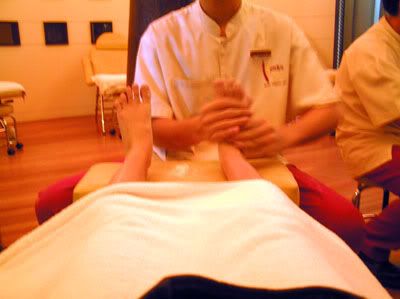 Before the treatment started, I reminded the person time and time again to be a little gentler on me so the pain was still bearable.. hee hee.. And after the treament, my feet really felt lighter! I'm going back for more!
Night activities was the NIGHT SAFARI
AGAIN
. haha.. I have been to the night safari for 3 times that I even knew what will come next during the show. Why didnt they change the contents of the show!?!?
I need to go take a nap now... Tonite performing! Hope there wont be any hiccups!
Kiyo 到此一游 @ 2:50 PM