Friday, July 01, 2005
*~*~*~*~*~*~*~*~*~*~*~*~*~*~
Was so damn tired yesterday

that i slept holding my hp. Was supposed to call darren 5 mins later as he was in the tunnel & couldnt hear me properly. "5 mins later" my alarm rang and it was morning.

I bought a pair of earrings yesterday and I'm going to wear them tomorrow.

Lame earrings..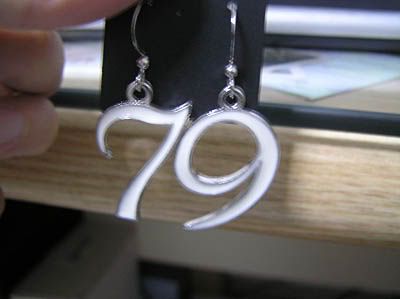 so what's wrong with wearing the year i was born on my earlobes..Those who are born in the same year and who is as lame as me can just drop me a mail, I got another pair to give away. I'm not ashamed to tell everybody that I'm in my mid 20s (my bday is coming soon.. take note) and a few years later, according to some "nice friends" (you know who you are), my market value will depreciate (it's not as if I HAVE ANY now rightz? Hng you all)
PLEASE..relatives & friends, dont bug me to get married. It's not within my control. Now, i'm not looking forward to the new year, I dont think I will be turning up at my relative's place, and I hope they dont turn up at my place either.

"几时到你,几时到你" will be ringing in my ears...

After attending xin's wedding, xdd has been bugging me to get married these few days.. with things like..

"think u should ROM soon"
"not young liao LEH..."
"TIE HIM DOWN...."

"another 2 years later, take photo not nice le"

-_- '''

The last sentence was the ULTIMATE.
It's been a Looongg time since i felt i could tear a person's face apart with my bare hands.

and you wont want to try to retort him about "it's the photographer's responsibility to ensure the picture look nice" blah blah blah that sort of thing..

he will snap back "photographers are there to take the facts, NOT CREATE MIRACLES"...I need a hell lot of them man..

Seems like xdd is more anxious than me..

cos he is harbouring dreams that he will open the car door with one hand, take photos using the other.. and get ang pow at the same time.
Dont ask me how he is going to do that, I seriously have NO IDEA.

*PUFF*

Wake up, my friend.. I got cousin.

I know you care la, bro thanks. =D hahahaha

But the bigger problem is....

Bo Groom, Marry WHO?!?

~~~~~~~~~~~~~~~~~~~~~~~~~~~~~~~
Pictures during xin's wedding...

I look like a maid in that stewpid boho dress or maybe it's the wrong angle and YES, we made mistakes during the performance. Cannot blame us la.. we only met up once to practice before the actual day.




Me, okaasan n otosan.. She looks really pretty...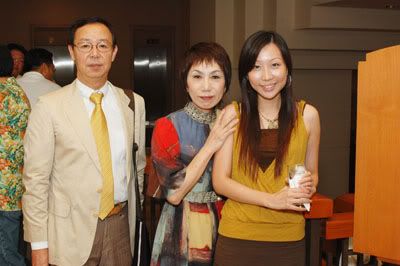 Our table shot.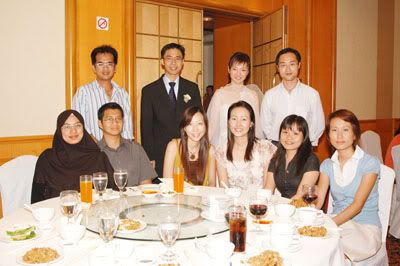 Darren is treating me very nice these days... I think he must be SICK. It's quite unlike him. A late night bird that sleeps at almost 2-3 am every night and wakes up only at 12pm the next day is asking to meet me at 8am tomorrow for breakfast for my favourite roti prata. I think he is REALLY sick.
Tomorrow, we will go for his favourite ktv session with his UWA friends. Dun puey puey okie.. he's the first runnerup in the singing competition in Currie Hall.
But to me, he doesnt sing.. He SCREAMS, SHOUTS and does everything else besides sing.. I wonder why he won...
Kiyo 到此一游 @ 11:20 PM