Wednesday, June 14, 2006
*~*~*~*~*~*~*~*~*~*~*~*~*~*~
A picture of bliss...
Weddings are always so very sweet.
Never fail to move me to tears, although secretly.. and nothing makes me happier than seeing them mark their new phase of life together.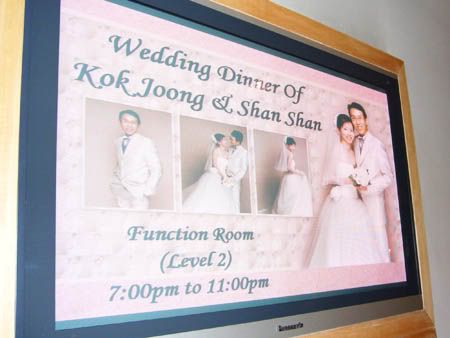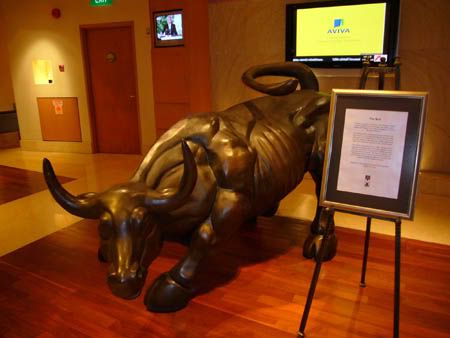 Nothing to do with this bull at M hotel, it's just there ready to pounce at me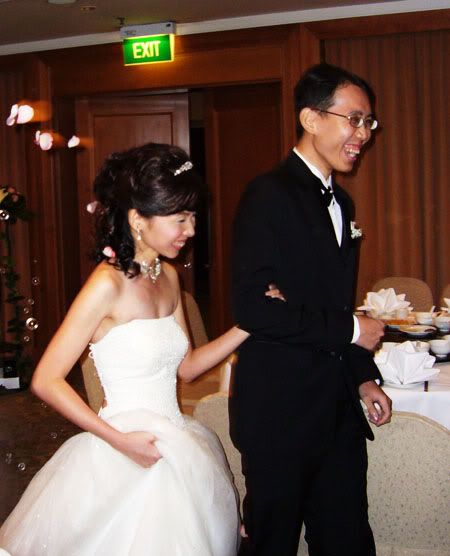 Looking at the flash presentation they prepared from photos taken when they met
(both are my friends in university)
to their wedding photos, it brought back alot of memories.. even for myself. And I can just say that it's really fate that brought them together.
Congratulations!!
Still remembers the wedding of another good friend Xin. Fun re-reading those entries again..
~ Their True Love Story ~
,
~ Night pictures ~
Managed to psycho her to start a blog as well!! woohoo~ my acheivement of the year.. =D
Read her here ==>
~ Xinderella ~
Back to the wedding..
Lurve the wedding favours! A photo frame and a mini photo holder cum paper clip holder cum paper weight? Anyway both favours are lovely. =D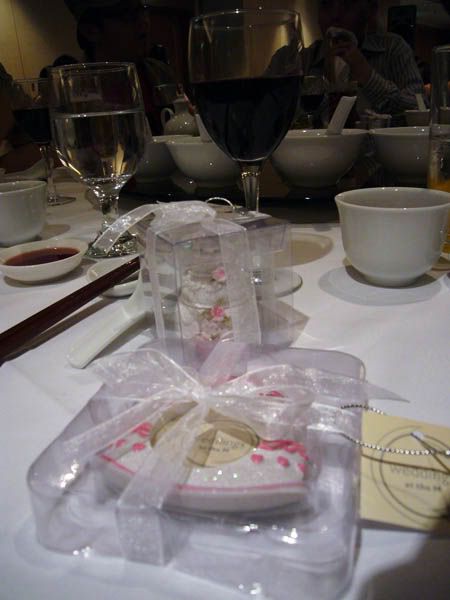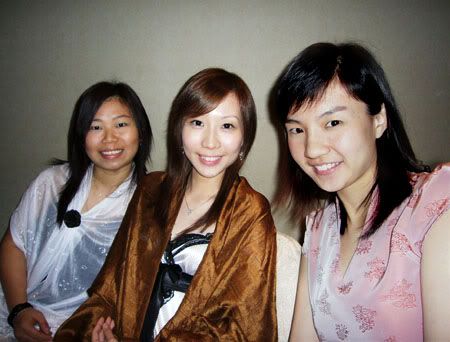 3 geyao-rians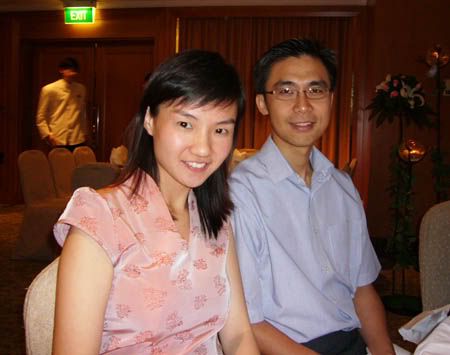 Xin and her hubbie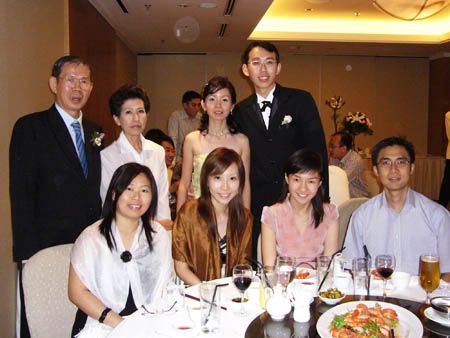 Table shot
and the wedding was made more interesting cos we had a very attentive waitress who is really chatty and bubbly. She attends to our every needs and checks with us time to time on whatever we want. But she's quitting M hotel soon...Will be working in TAKA jewellery to save more $ for her studies. Such a hardworking gal.
yeah...Belinda will go far.. =)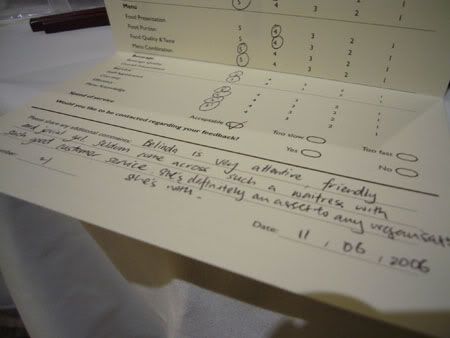 Read an article recently and it's a very interesting write up about selfish men in a witty way.
In the article it wrote, what kind of guys are keepers and what kind should be locked out of the door of your heart.
....'In sickness and in health' doesn't just apply to marriage vows. It can be an accurate gauge of whether a guy is of marriage material, especially the 'in sickness' portion of it.

I don't know about you, but when I'm down with even a minor ailment, such as the sniffles or just a tickle in the throat, I turn into this horribly needy, vulnerable creature who needs lots of antibiotics, water, chicken soup and sympathy.

And I think it is only right I get all the TLC I demand, because I hardly request for it when I'm well.

My theory is, it is when I am unwell that I need someone to take care of me. When there is nothing wrong with my health, I can jolly well take care of myself.

I recall an old boyfriend, who forced me to sit by the window on the sunny side of the bus while he coolly sat in the shade, even though I was running a high fever. I even begged him to switch seats with me - instead of breaking up with him on the spot - but the callous guy refused. He said it was too hot.

Then there was the one who mocked my weak stomach when I got severe food poisoning - and he didn't - from the Vietnamese spring rolls we had for dinner. He didn't even think it was necessary to take me to a doctor.

But of course, when your man is sick, you have to be prepared to play nurse - force medicine down his throat, take temperature on the hour, clean up vomit, coo sympathetically over the invalid.

Having said that, I have to admit that I have been guilty of not being exactly the most attentive of nurses.

When one past boyfriend was on the verge of vomiting, I passed him the dustbin and hurriedly retreated to the furthest corner of the room.

I was more worried about my delicate gag reflex than his dinner being regurgitated.

Another guy was once so sick he couldn't even pick up the phone to reply to my increasingly hysterical SMSes about his whereabouts.

When, after three days, he finally was well enough to return my call, the first words that came out of my mouth were, 'Oh, I thought you died'. Not exactly one of my proudest moments.

On hindsight, it is no wonder that these relationships didn't work out. We obviously cared more for ourselves than for the person we were - allegedly - in love with.

Just last week, I came down with the super bug that had been gleefully circulating in the office.

As I laid on my deathbed - or so it felt, in my fever-induced delirium - I feebly sent out an SOS via SMS.

It was to a guy I was sort of seeing, but we were both wavering about where we were heading.

Not only did he refuse to come see me, his excuse was also that Liverpool was playing.

Okay, so it was a crucial match - or so I'm told - and I do get that, for half the human species, football is a matter of life and death.

But my life and death are kind of crucial too, at least to me, and it should have been to him. Well, obviously not.

As I got sicker and sicker and lost all ability to speak and could only communicate via text messages, he brushed it off by texting me 'You'll survive lah, you big baby'.

Yes, I know it was only a bout of flu, not like I had pneumonia, tuberculosis, leukaemia or some serious life-threatening multi-syllabus illness - but still.

Even in my drug-addled state, that was a moment of clarity for me. I was so over him.

It was a bitter pill to swallow, worse than those awful antibiotics I was prescribed, but ultimately it was for my own good.

What's the use of having someone who will only be there 'in health' but not 'in sickness'?
Though there may not be any promises exchanged as binding as 'till death do us part', relationships should be able to withstand any bout of illness. Or at the very least, the flu bug.

suzanne@sph.com.sg

Yeah.. this definitely determines the right hubby material.
he loves you even when you look like a relative of tarepanda.. even when there's 1 big pimple on your cheek or even when you catch the flu bug.. he won't hesitate to kiss you to show that he cares..
Awwww.. wont that be sweet?
think i'm watching too much of taiwan soapy dramas.
Back to my assignments, back to reality.. =p
Labels: Celebrations
Kiyo 到此一游 @ 9:20 PM