Thursday, June 01, 2006
*~*~*~*~*~*~*~*~*~*~*~*~*~*~
Please Spank Me!
I'm the victim of the Great Singapore Sale...
AGAIN
..
I am one of those people who happily want to save money during this period of time, and enjoy the discount
but ended up walking out of the shops with bags of non-discounted items.
NEW ARRIVALS HAVE NO DISCOUNT...
-___-
Got this pair of shoe, it's very jappy and I like it!
in love with heels lately~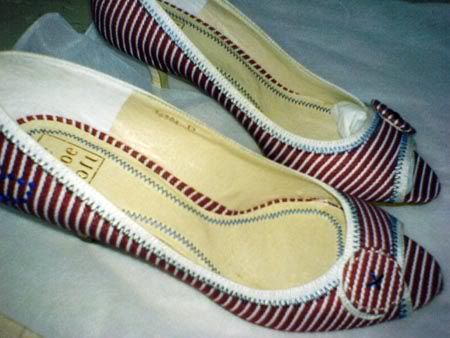 There's actually no discount for it but it's the last pair.. so.. 10% off!
~~~~~~~~~~~~~~
The Dangers of Email
Yesterday a colleague of mine sent an email to ask us out for lunch but she accidentally sent to the wrong person. She wanted to send to Brandon but sent to Brenda instead and Brenda is located in one of our subsidiaries in Vietnam!!
Brenda must be really surprised to receive the invitation to eat
bak kuk teh
in Singapore..
farnie..
I had such encounters too and mine was worse.
I wanted to send an email to a colleague but it ended up in his
boss's inbox
.
eh your boss very cute leh, first time i see him smile
-______-
and i meant the cute as in "CUTE". DIG a hole for me please...
Darren's encounter for wrong emails was the
worst of the lot
.
When we were working in a company in TUAS
(yeah.. that niao-bu-shen-dan place)

,
he was in the same office as me. He noticed that I was really cold and decided to drop an email to me..
That email ended up further to one of our subsidiaries in AUSTRALIA.
EVERY
employee received a copy of that email he sent. (he received countless read receipts)
Including the Managing Director.
Baby,
are you very cold?
And he got replies like.....
" NO, it's 35 degrees out here"
-_______-
diu si ren ler..
Labels: Fashion Fuse, Silly Stuff
Kiyo 到此一游 @ 7:45 PM