Saturday, November 12, 2005
*~*~*~*~*~*~*~*~*~*~*~*~*~*~
The Diva experience...
Okie i'm still not qualified for the Diva exotic Dance but I can always have some other diva experience!
Went to the all famous Dashing Diva for my virgin tailor-fit nails!!
Dashing Diva nail concept is actually brought from NYC and is very famous for their manicures/pedicures and treatments too and needless to say.. their prices oso very famous lo.. wah liew.. I nearly choked when I saw that their standard manicure cost $50 bucks.
The ambience was great and the constrast of the pink curtains and white sofas really adds to a classy feel. Got this pic from their webbie..

Next I chose their tailor-fit nails with nail art which costs 30 bucks. There's altogether 32 nails inside each set. So... you actually can use them twice and each time will last about 2 weeks. Good for special occasions or anytime u feel like having perfect nails. My nails break easily so I decided to try out this service cos their nails look really nicely done and not cheapo. They have those 3D ones too and they will ship more soon..
I chose a subtle one, pink base with white tips and a white flower on the side...I just checked on the net, it's called Madame Rose. I didnt choose this cos it matches the colour of my blog k..

but then....
Wah lao eh
... how come the name sound so old like dat..grrr
I like this, but it's not in Singapore yet, it's so.. cute!

Than she gave my hand some massage after everything is done.
Okie I will have perfect nails for 2 weeks!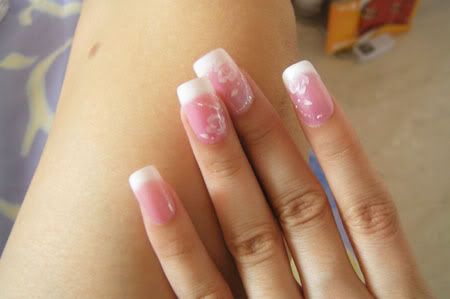 ~~~~~~~~~~~~~~~~~~
Mum went to Genting and wont be back till Sunday.. I decided to be a good girl today and tidy up my room and study room and get rid of all those paper bags that contains dont noe wat la~
(actually it was because I couldnt take it anymore, those bags are irritating me)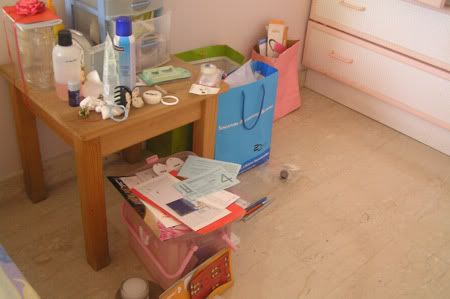 I have this bad habit of not reading letters.. that's why they pile up.. hee oopss.
See! 2003's Petronas Twin Towers entrance ticket still there! but then i meant to keep it as a souvenir.. just dont noe where to put.. hee hee..
Okie off to some serious packing!....NOpe.. i think it's more to Throw throw throw!
Kiyo 到此一游 @ 8:23 AM