Sunday, November 13, 2005
*~*~*~*~*~*~*~*~*~*~*~*~*~*~
Fun fun FUN!!
Had a JC friends gathering yesterday night... It was really fun. We had fun catching up with everybody but didnt take any pictures. Apparently I just brought my CAMERA BODY there and forgot about the battery and memory card -_-...
We started our rounds of introducing ourselves again, current job etc cos it was ages since we met. I have not met some of them since like 6 years ago?!? But interestingly enough, we still have alot of things to talk. We talked about teachers, japanese companies, engineering stuff
(cos 1/2 my class took computer and the other 1/2 took chemistry)
. When it came to teachers..I only can remember one.. which is Mr Wan, our chemistry lecturer hee hee. He was the most
shuai
teacher in the school at that time...
We talked about
DANCING
TOO! The 2 other gals who went were very into dancing. One has completed
Salsa level 1
and is interested in taking up
exotic dance
, the other is going to start
belly dancing
next week. The guys were very surprised that our lives are like so "happening".. Exotic dance is really kinda fun you know...
~~~~~~~~~~~~~~~~~
Today we did a new dance again, 3rd item for Sexpo. This will be a combination of chair, pole and sensual couple
(Joy & Ricky)
. We are still not very sure of the moves and timing yet but I love this song. It's called Crazy Little Thing for Love by Micheal Buble. Very playful and teasing.. hee hee
Took a video but not going to upload cos the file is just too large. Just settle with the photos~ and YES, we are going to wrap ourselves with feather boas in the colours of the latest season. Mine n ppm is
GREEN
... Personally prefer
Purple
though haha...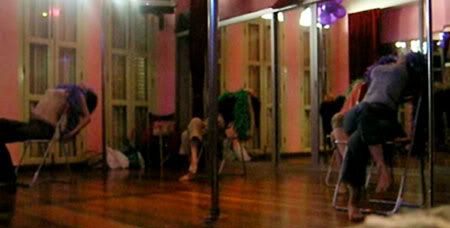 Dat's me with My green one at the back...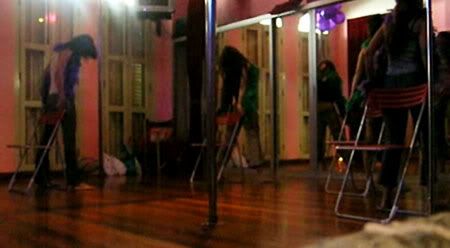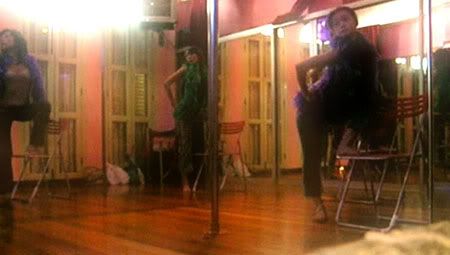 I'm nearly kena blocked by the pole...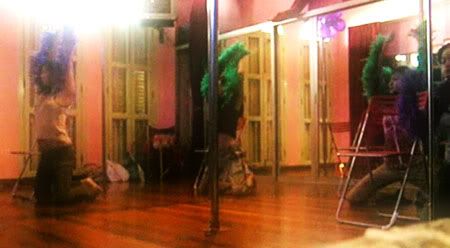 Now, I'm blocked by the pole AND the FEATHERS -_-
~~~~~~~~~~~~~~~~~~~~~~~
lalala~ can we sing a
BIRTHDAY SONG FOR DARREN
?
Happy Birthday to YOU.
Happy Birthday to YOU... Happy Birthday to YOuuuuu.
Happy Birthday to you.. =)
Yeah I'm crooning at the top of my voice and I did sing to him this morning at 12.30 am, sorry was 1/2 hour late cos i was bathing.. bleahhhh.
Yeah.. it's his birthday today and he's a Scorpio. Scorpios are very mysterious people and seldom tell you how he feels. He doesnt really say "I miss you" or I love you" very often. After 4 years plus with him, I can count the number of times he uttered those words with my fingers. So I really treasure when he said that cos I know he means it...
I guessed he must be really stress this birthday cos he is having an exam early in the morning tmr!! Doubt there will be any celebration..although a common ex-colleague actually remembered his birthday and asked me to wish him yesterday night. That's sweeeet~
Kiyo 到此一游 @ 8:52 PM