Wednesday, November 09, 2005
*~*~*~*~*~*~*~*~*~*~*~*~*~*~
This is the first time in my 20n years of my life, that I feel that I'm really fortunate to have my family, Darren and a few nice friends. I feel it very strongly and it really gives me the drive and motivation to do the things I want to do and make plans for my future.
Cant express how I feel now but my mood had been really really down. In a day, I ran through all my thoughts, what I have been doing all these while and realized most people take things for granted and THAT includes me.
I do too cos I'm just as normal as most of the people out there.
Will try to remind myself to appreciate life and everything, every friend around me. It's gonna be tough cos people tend to forget, but I will try.
I dont usually show people my weaker side.
So... today, just let me be weak once.
*AND I am NOT PMS-ing*
~~~~~~~~~
I didnt manage to get it... =(
女人我最大 released a magazine and I didnt manage to get it! It was only released in Kinokuniya stores on Saturday and when I went down on 8th Nov tuesday, ALL were sold out. Sold out in Taka, Bugis and even in Liang Court that ulu place. I thought I should be lucky enough to get it but it seems like I have to wait for my book to arrive. I've placed an order with Kino but they cant even guarantee that they will be bringing in that magazine cos it still depends on whether the taiwan distributor has stocks or not.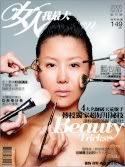 Anybody sees this in any bookshop plssssss tell me.. you will get a ONE NIGHT STAY in Intercontinental Hotel.................
....
....
....
...'s LOBBY..
(okie lar okie lar.. i know lame lar..)
Kiyo 到此一游 @ 10:15 PM