Wednesday, November 23, 2005
*~*~*~*~*~*~*~*~*~*~*~*~*~*~
More pictures from Sexpo.
Babes galore.. Everyone looked great!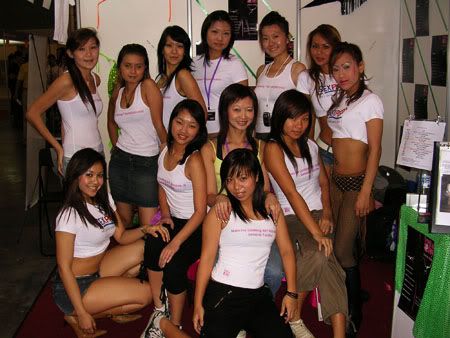 Us on Saturday....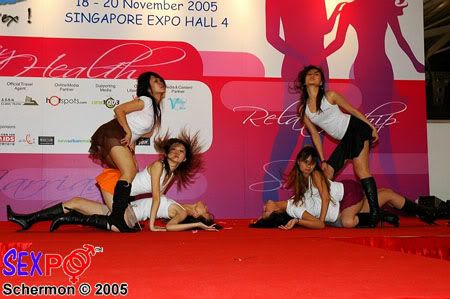 Our dance item last pose. The only photo during the dance I could find that has me in it and doesnt show my face. The rest i look typically KANA SAI..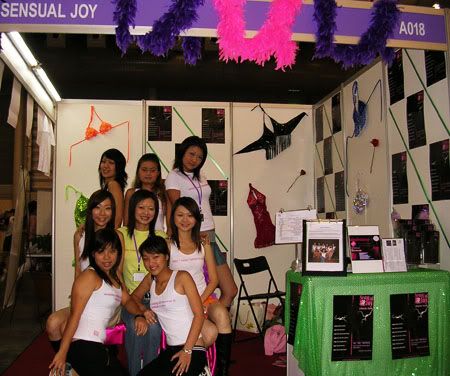 Dis was taken on saturday too.. From grigri
Taster Chair, Xotic Classes during Sexpo.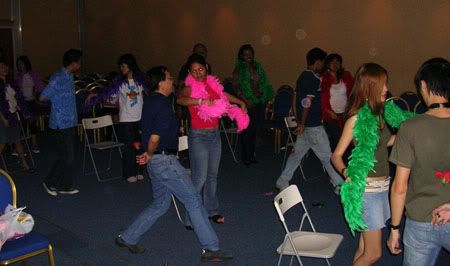 ~~~~~
wad the... !?
I think that guy at justfordates dating service booth in sexpo helped me complete my profile dat day. I registered cos there was this free SPA voucher thingy..virgie registered too keke Okie I admit that I'm cheapo la.. The computer hanged while I was halfway through and then later he told me that he completed my profile for me after I came back from the ladies.
I logged in on Monday night as I kept receiving email notices that I have new mail messages, I thought it was kinda strange cos I didnt enter anything at all in my profile description yet and you know what he wrote under my description in order to process the application?
" I am who i am, and i don't try to be who i am not. <== FEI HUA

When i find myself not who i am, then i might have to try.

But my skin is good, i'm comfortable in my own.
My likes are simple, and interests even better.

Dances and the slow lucid movements of a slow ballad or a melody thrills me." <== sounds a tad slutty can..
...
-__-
grrr..NO WONDER la.
One look at it you know it's not written by me! My
ENGRISH
where got so da
POWDERful
?!
n i dont even understand what he's toking about.. wad is LUCID?? I'm going to change it anyway but I hate writing profiles..
If me, I will write like dat.
I am who I am
and
I dont try to be who i am not lah
..plss..
When I find myself not who I am, I think I wont try oso lor...
My skin mah.... not very good but I still can live with it..
My likes are simple, shopping, combat, singing, and
LANCinnn
is even better...
how 'bout dat?
~~~~~
Kiyo 到此一游 @ 10:06 PM