Sunday, November 06, 2005
*~*~*~*~*~*~*~*~*~*~*~*~*~*~
End of a relaxed week..
It will be
BACK TO REALITY
from tomorrow onwards. Work work work again..
The past week had been great, an ideal week for me.. you know... "work one day, rest one day" that thing.. I kinda like that idea but there wont be anymore public holidays till december
*boo hoohoo*
. Anyway I will be taking leave on 17th though.. something to look forward to cos Darren will be back and I shall have endless buffet and jap food partner. hee
Was bumming around today with nothing much on hand to do cos our dance practice was canceled last minute so I decided to go shopping alone. Mum asked me to help her get something
(Biothem Age Fitness Day Cream)
cos she watched Mei Li Yi Neng Jie, a taiwan show hosted by 伊能静 and she introduced that cream to be her favourite anti-aging cream.. I think my mum is getting more and more like me.. watch all those taiwan show and spend on beauty products.. tsk tsk tsk..Not to be encouraged haha
Bought other stuff as well~ They are all NECESSITIES okie. Bought 2 hair styling products for curls! I shall go master my curling tongs every weekend if I have the time. Just so tired of my straight hair-do. Got the
スタイル記憶
(Sutairu Kioku) type of hair spray from Lucido-L. I vaguely remembered that it was mentioned in one of the shows too. It claims to be able to "remember" your hairstyle. So it doesnt matter whether you are facing strong wind or even in stormy weathers, it's supposed to fix your hairstyle and you can just restyle your hair by running your fingers through it and VOILA~ and it will be back to shape again!
FWAH~~~ sounds like hair spray with Artificial Intelligence, anyway the bottle is quite pretty and there's a pretty Namie Amuro on it.. I kinda like the packaging.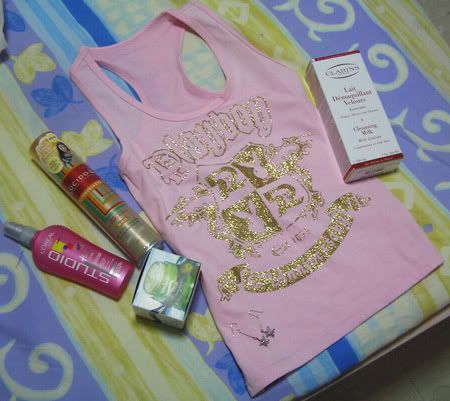 See that pair of star earrings at that corner right there.. the guy selling those earrings told me they are called 绝对 SUPERSTARS....
-__-'''
bery bery cold...
~~~~~~~~~~~~~~
Oh ya.. And I want to share what I saw on Miffy's blog and on Flowerpod as well.
Loreal Warehouse Sale from 18th~20th November at EXPO!
THAT is something to rejoice about, can stock up on some mascaras if it's really cheap. Will be there definitely for sexpo performance so shall 偷懒 and take a look when free hee hee
Found something else on FP too... Can I encash my blog? grr.. I can go Japan at least 3 times with that kind of money.


My blog is worth $14,678.04.
How much is your blog worth?
It's nothing considering the fact that Kenny Sia is worth a freaking $1,068,674.22! It's just for fun But I like the numbers though.. maybe can buy 4D. =D
Kiyo 到此一游 @ 9:03 PM