Monday, October 24, 2005
*~*~*~*~*~*~*~*~*~*~*~*~*~*~
Please call me 软脚虾
Have been to the studio for 3 times last week to practise for our performance. Now I fully understand the term 软脚虾...Our moves are getting much better and I really developed chemistry with peimin. She is my 最佳 partner! haha. We had a performance today just now at the studio as the civil servants club wanted to join joy's classes and requested for a preview of the class. So we danced Scandalous by Misteeq and a lap dance too.
It was really a crash course on lap dance yesterday. I learnt almost the whole of lapdance yesterday but still very clumsy. I was looking at the other group on the sly so as to make sure that we are on timing and I'm doing the hair flips at the right time. I couldnt get used to the crawling and dragging of my knees across the hard wooden floor. Next time I will know better to let ppm do it cos i'm so prone to
or chehs
. Much relaxing sitting on the armchair than crawling around right?!
Was so busy with dance and other stuff that I forgot all about my credit card bills!! I realized I cannot multitask man.. when I'm busy in one task, I will tend to neglect or forget others... arggh..they charged me a late fee, those bloodsuckers.. Anyway, I called them up and you know.....asked them to waive it off and threaten to cancel the card if they dont.
They did of course. They HAVE to. hahaha
Early this morning I received 2 Mms.. from gerald. He's the only person who sends me MMS cos he's not the one paying for his phone bill!...
That hiao didi of mine went to colour his hair today and took some pictures for me to preview. And what's better was that.. he do not need to pay for his hair colouring EITHER!! Everything free lo..
This was the picture...so small!

I replied him : like monkey god lo.. buhahha..
(actually I wanted to post another one with his highlighting cap on, he said he will kill me if I do that)
So he send me another one just now...with good photography and editing skills.
okie lar okie lar.. very shuai la haha.. It looks just like an album cover. wee wheet! Some people going to cut album ler. hm... I think it's better that you just be album cover than I help you sing.. *opps*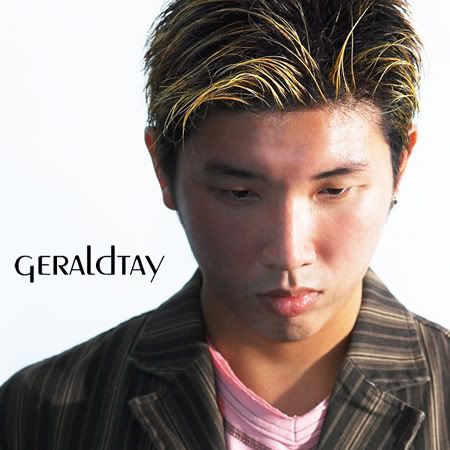 Kiyo 到此一游 @ 10:32 PM