Thursday, October 27, 2005
*~*~*~*~*~*~*~*~*~*~*~*~*~*~
Still very tired
It's been raining and raining nonstop these days.. Always feel like sleeping... in office. Or maybe the flu bug has caught on to me... I hope not. Ate all sorts of stuff this afternoon to cure my burning throat. From starfruit juice, to chinese medicine 苦茶 and I shall pop another 2
Danzen
tablets before I hit the sack. That's what I call 中西合并. Maybe my throat will recover tomorrow and then end up having diarrhoea.. ha! choi!
Actually it's good that it's raining cats and dogs outside now cos there's a high chance it wont rain tomorrow! Cos we are changing venue for our performance! Here's the E-pamphlet Joy sent us. She was telling us CU foam party through sms the other day.
Sua gu
us was still thinking what can CU stand for..and winston still have the cheek to say that it stands for Chikopek Union.. -_-!!
Anyway, we were quite glad that it wasnt some family oriented place with kids running around in the baby pool with foam..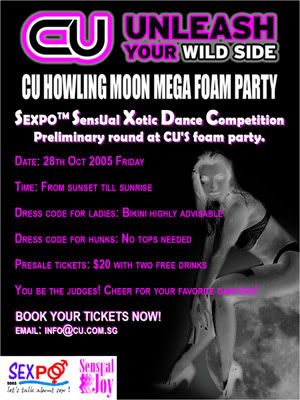 the howling moon part sounds like we are werewolves.. and not to forget the venue is at some place call FULLMOON beach bar or something like that. haha
Since it's a competition, there should be alot of experts around.. We are still not up to the standard yet so I think I shall stand at the side, armed with my camera to get some cool shots... but! I shall be home early cos Saturday we will be meeting sfc friends to celebrate Ivan's birthday!
Happy birthday Ivan! How old ler ar..*opps*.. hee hee see all of ya on Saturday.. it's been a long time since I stepped into Sakura and I miss the food there!
Kiyo 到此一游 @ 10:09 PM