Sunday, October 16, 2005
*~*~*~*~*~*~*~*~*~*~*~*~*~*~
It's time to Dance
I'm officially joining peimin for the Amateur Dance team lessons with another 2 gals kelly and angela every Saturday from 4-6pm. Joy talked to us yesterday and said she's forming a team so that we can conduct public performances.. Of course the name of our team just speaks EVERYTHING. we are TOTALLY Amateurs so dont expect handstands, splits or whatsoever. I think our main purpose is to showcase what Joy teaches during classes, represent Sensual Joy lifestyle studio as her students and we get extra practise sessions as well.
Yesterday we were at the studio practising scandalous again. We need to get the moves right and on top of that fine tuned it as well. Joy told us frankly what's our mistakes. My mistakes were the usual.. Movements were maybe abit too sharp and not big enough. She said we were taking such small steps and we look too gentle and innocent. We should have more stage presence and have bigger movements involving the use of our hands and with more attitude of course. Those are really precious advice. I need to improve on the way I walk. I didnt know that I look as if I was marching (like girl guides) rather than walking. -_-''' haha. And what's worse was I have never been a girl guide ALL my life.
Darren dont really like the idea of me wearing shorts strutting around in public. But he still agreed to me joining the team. I'm happy to have him. He always give me total freedom to do whatever I want.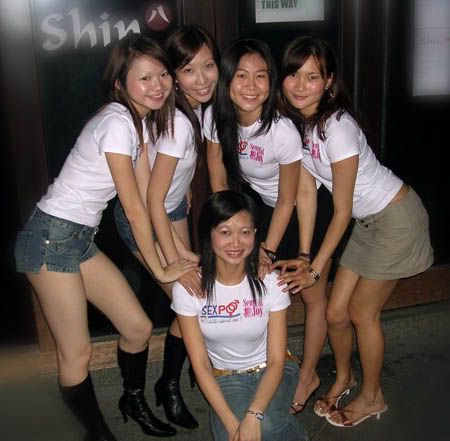 From right, fion, angie, me n peimin. Fion and Angie can dance real well!! They are going to be the in-house artistes for joy. Yeah. our boots were from Lucky Plaza.
Apparently Lucky plaza is supposedly the
PLACE
to get boots haha. My sis wanted to recommended me that place too and we saw another gal hired by Sexpo to sell tickets wearing the
SAME
boots as us. *ahem* It's really common design. Anyway, I will get other colours when I do have the budget.
I bought a track pants yesterday at Mango. Cost 35 bucks only~ even cheaper than the white Fila one that I bought from Perth. argggh.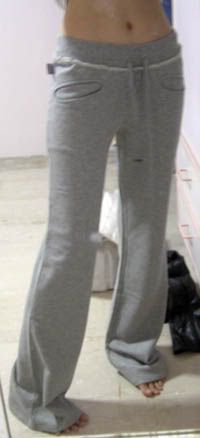 I think I need to cut away at least 2 inches off man.. so long! It's made for long legged giants
Kiyo 到此一游 @ 8:49 PM