Monday, October 03, 2005
*~*~*~*~*~*~*~*~*~*~*~*~*~*~
Perth Revisited IV (Sunday)
Went to Karrinyap shopping center to find it closed. I thought there's some flea market there as I read it on some magazine. Luckily Darren didnt scold me or wat cos it was actually quite a distance away, I felt very guilty and for the first time, so blur that I didnt check my info out properly.
But we went pass sunset coast! beach again! There seems to be alot of beaches along that stretch until I cant remember their names. We saw alot of surfers.
I was shivering from the "cool "sea breeze and there they were, SURFING. abit siao i think but they looked quite handsome... from afar.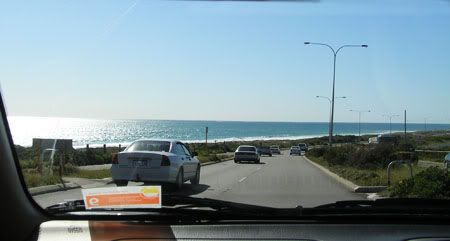 He wanted to go down to the main beach cos he thought it might be a nude beach. -_-
So cold.. who wants to go nude??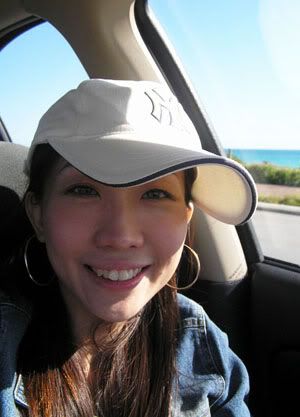 Decided to resize my Super 大头照 to a smaller one..
Didnt do much today, went Fremantle again to visit 2 shops I missed out. Bought a mug for Gerald with the quotation
"u can only be YOUNG once, but u can be IMMATURE indefinitely"
ahem..he said that I should have kept the mug for myself.
Met up with Daphne and Kenneth for dinner at Conca's. Jon recommended this place to us when we passed by the cafe while driving. Daph & Ken has been there like so many times within this sem! Jon said that their chili mussels were great. I totally agree! It's a very good subsitute when you cant find chili crab. Even Darren, who really dislikes trying new food said it's nice. =D I'm trying to find chili mussels in Singapore. Anybody knows of any good place?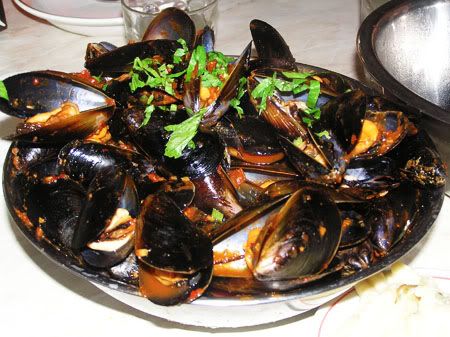 Yummy chilli mussels! I want more...
Sometimes I get very bored when he is driving.
A very stewpid video. Can see darren driving machiam he's jay chou driving a sports car in initial D.
hoei
.. it's only a Nissan lo.. bwahhaha.
~Click Below~
Labels: Perth Revisted
Kiyo 到此一游 @ 10:10 PM