Saturday, October 15, 2005
*~*~*~*~*~*~*~*~*~*~*~*~*~*~
Happie!!

we went with Joy to distribute some pamphlets for our studio and Sexpo yesterday night and some other class members too. Before that, we were practising the Scandalous dance. It's really getting very fun dancing, relaxing experience! I went at about 4pm to see some of the Channel U project Superstars there. I didnt have my cam with me so no photos. They were there for some program I think, but I didnt see junyang.. sadzz.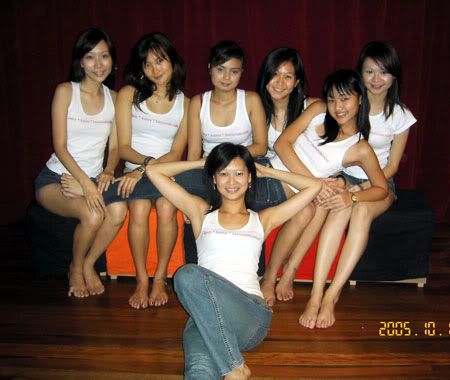 The girls! From left, me, fion,opps I cant spell her name, angie n ppm! And not to forget joy and her cousin =) I got the Tshirt!! Happiee




Bought boots on Friday too..Met peimin at orchard for while and bought a pair at all places.. LUCKY plaza.. I didnt know lucky plaza has such a large variety of boots. It's just a normal cheap pair of black fake leather boots.. I seriously never wore boots in my entire life man..after wearing that pair of boots, I'm a freaking 1.73 m tall.... TEKKO. Bet my bf wont want to stand anywhere near me.

I'm rather happy today TOO.

Firstly, it is the first Saturday without any dance class. I can now spend my saturdays Shopping hee hee. I really cannot recall how long it's been since I've been to far east plaza for some good shopping.

Secondly, my skin is so much better! After drinking more water, eating porridge, be more diligent in my daily facial routine, my skin is almost back to normal. yoohoo! I'm a happy woman.

My skin saviours that I worship everyday..

Eve Taylor Skin oil No. 1 bought from Dermalogical long time ago. Oily skin needs oil sometimes too. I seldom uses it unless my skin gets really sensitive and dry. This really calms the most irritated skin.




Lycopene peel from Skin Revival. It's supposed to loosen up your impurities inside your pore and exfoliates the skin. Really works. Love it! I'm going to get the big bottle from them.




Thirdly, just after 2 weeks returning from Perth, Darren will be back in about 4 WEEKS TIME. How time flies. He will be coming back by Qantas although his flight tickets were Valuair cos they are ending flights to Perth I think. They didnt really explain much but it's one good news. At least Darren wont feel so bored on his flight back, have nicer meals and tv to watch!

I'm planning my next trip with him aledi..

I want to go Bangkok!
Kiyo 到此一游 @ 12:42 AM