Saturday, October 22, 2005
*~*~*~*~*~*~*~*~*~*~*~*~*~*~
Free lenses!
Haha.. got one pair of free trial Purevision lens yesterday. They claim that we can wear for 24 hours and 30 days without removing them at all. I actually saw it a few days ago during lunch time but I didnt have time to stop and get the trial set but yesterday after work, I went for my eyebrow trimming session and I remembered about it. They have my degree!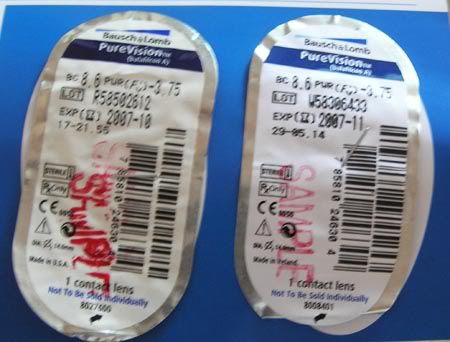 Wore for a few hours yesterday so cant really give a detailed review yet. But it feels like wearing nothing so I'm looking forward to wearing it the whole day later.
Think the booth will still be there till Sunday... kekeke
NOnoNo.. I'm not thinking of going down to get Another
FREE
pair okie.. duh.. I'm not so GB
(gian beng)
can? =D
Today will be a packed schedule, facial at
10am
(okie i can put that lens to some test, let's see if I wake up with dry eyes)
, lunch and shopping with gerald and ppm at about
1.00pm
, dance class from
4-7
. So that's about 9 hours.. If it's really good, I shall get some of it and wear it when I really need to rush around for long hours. I dont really dare to wear it overnight though, feel quite strange to wake up with sharp eyesight and all.
Did a little test at
Daphne's blog
. And it's quite
zun
for me!
I chose B cos I will really feel miserable if there's nobody at all except myself. From young, I always have this scary thought that what if everybody died and only I am the sole survivor. THAT will be scary. Seriously I dont think I will survive, unless I have my computer (with broadband connection of course) with me.
B)
Nobody in a deserted village except yourself. You are basically a person who enjoys looking back to the past. A very emotional person indeed. Easily influenced by the people or surroundings around you. Eg. if the society is sad about the death of Princess Diana, you will also share the same sentiments or when watching a sad movie...like Titanic, you will be so engrossed in the movie that you will end up being sadder than the main casts in the movie!!!!!!!
(I always cry!! not my dai ji i oso cry! Watch

童话

or

叶子

mtv umpteen times still cry like MAD!! zun!)
Lovelife:
Very Messy! Are you a very confused person? Sometimes you like to be left alone, Sometimes you want to be love, Sometimes you need her/him, Sometimes you don't??
(Not very messy wat.. but the 2nd part of "being a confused person" I can imagine Darren nodding his head vigorously in front of his computer)

-__-
Does it sound familiar? You better sort out about yourself before you cause another party to be in pain for you.
(nah... I dont think he's in pain.. are you ?keke)
The spree site.
Unpretty lady and fairy juice, good organizers. It's where I got my bag, just keep a lookout for their sprees. =)
Kiyo 到此一游 @ 8:42 AM