Monday, October 10, 2005
*~*~*~*~*~*~*~*~*~*~*~*~*~*~
We have graduated!
*....Drumrolls....*
We are officially graduated from the Xotic Kitten Course!!
*Applause* *Applause*
(Although Gerald insists that we are/I am 老猫 aledi.. wat kittens??)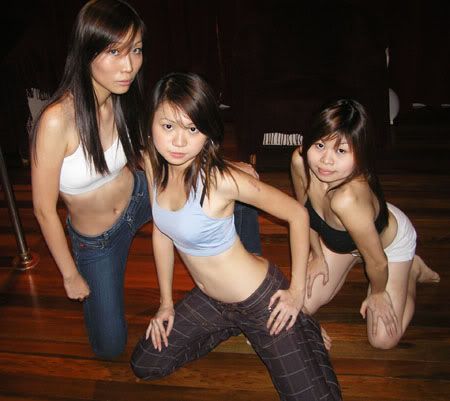 I look as if I'm going to kill your whole family using my right fist. whahah. Body combat and exotic dance roll into one.
Saturday we did the below sequence to complete our kitten course
1) A kitten crawl
2) A sensual walk with backturns
3) Strip Dance
4) and end off with the Lap Dance
After warmup, we were supposed to go change into clothes that will make us feel more sexy, so I just change into my jeans and no more kneeguards! Kneeguards are strictly UNSEXY. And the result is.. MORE OR CHEH..I pity my knees and I believe if Darren saw them, he will be shocked too. I always come home battered and bruise after dancing.
Luckily we are switching courses to Mtv exotic which dont really require crawling. Otherwise there will be neverending or chehs to my knees.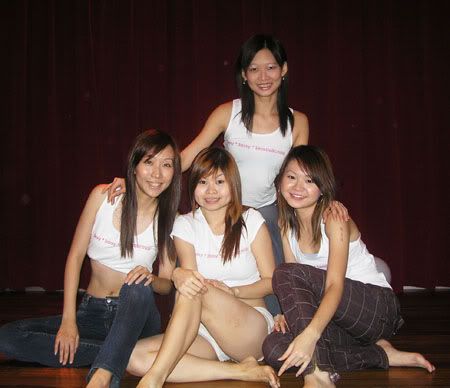 We can look sweet too.. hee hee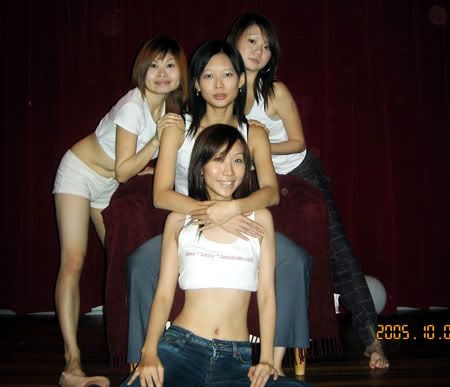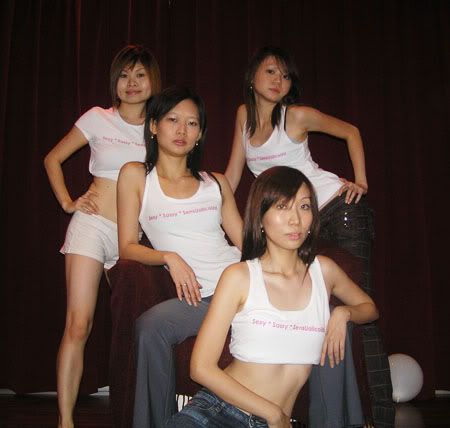 yet another pose.. Same pose, different expressions must take!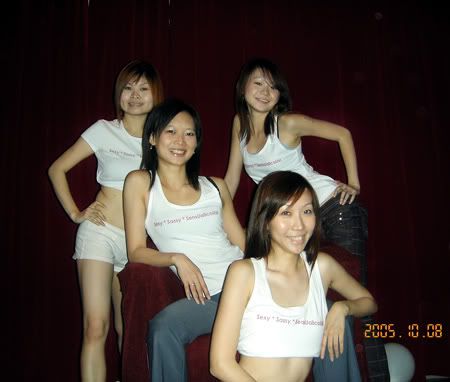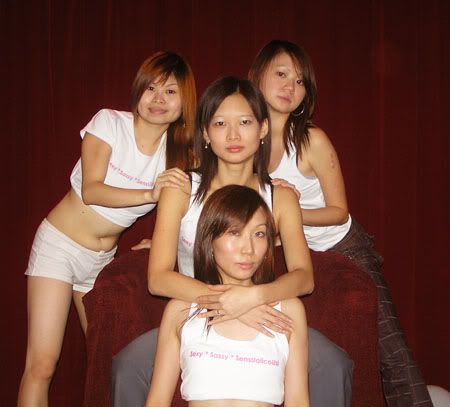 i'm cut into half..
I still prefer smiling at the cam.. I'm a frenly person.. hahah (or maybe I just dont want to admit that I have a SHITFACE (sai bin) when I dont smile.. boo hoo hoo)
Then came some people who film for SEXPO cos our studio is one of the sponsers. 2 of the other group members couldnt make it so I stood in for them. They learnt the dance when I was happy holidaying in Perth so I didnt get to learn it. Well done I only got 1 hour to learn the dance on Sat! It was a gabra experience.
So.. what exactly is Sexpo?
A chunk quoted from
- Getforme -
"SEXPO Singapore - Singapore's first Sexuality, Sexual
Health and Sexual Lifestyle Exhibition - will be held at Singapore Expo Hall 4A from 18 – 20 November 2005. SEXPO Singapore offers much more than our basic notions of sex. SEXPO will deliver frank, accurate and updated information on sexual education in a family-friendly setting with something for almost every member of the family. It'll cover sex education for teenagers, topics on courtship and dating for the unmarried, tips on communicating about sex for married couples and parents, and issues on sexual health for elderly married couples.

SEXPO 2005 will bring to you stress-free seminar sessions addressing topics on sex and sexuality for different audiences, from teenagers, adults in courtship, married couples, and parents, to elderly couples. Interesting and unique elements will also be showcased - from the latest adult novelty products, sex-friendly furniture, an exhibition on the evolution of undergarment and sensuous wear, to a demonstration and trial on exotic dance etc....."

More information at
Sexpo 2005
Woah... sounds like something new. Actually the organizer of the event got the idea from sexpo held in australia. And all the class members will be going to some clubs this Friday to advertise for this event. Maybe to
Club MoMo
(I never been there.. sua gu!) but I dont think I will stay too late, cos according to my dad's rules and regulations, 12 am supposedly is the latest time to get home.. I think I go there for 30 mins can start going home ler.. haizzz
Kiyo 到此一游 @ 6:45 PM