Saturday, March 31, 2007
*~*~*~*~*~*~*~*~*~*~*~*~*~*~
The search for shoes was futile.
It's really difficult to find nice shoes with low heels. Lyana recommended me a shop called ANNA NUCCI at far east plaza, they stocked pretty nice shoes (not expensive)but the one I liked was 3 inch high. I am looking for about 2 or 2.5 inch only..
Exodus at bugis do stock super flat slippers (yeah i call them slippers) with swarovski diamontes but it cost 100 plus =_______=. Not going to spend so much on a pair of slippers nor.
Darren say if we really can't find low-heel shoes, he will sponsor to custom make one! ha! die die dont want me to be taller than him... keke
Going to check out one shoe maker in an industrial estate. I read in forums he's the person whom Leapin Lizard order from too. So going directly to the source itself may save some monies!
Black 7 Shoe Making
Blk 1014 Geylang East Ave 3 #06-212
(near my house some more keke)
Accompanied Huiling and Cheryl to BC to try gowns. Slowly getting to know the girls well. They said, next time we can go source for all of the things together! Be it shoes, favors or even when our new house is ready, we can go and see each other's reno =). Huiling is very interested in BC as she wants to French Village in Malaysia to take photos. Looks like a nice place for a resort getaway. I believe her pictures will turn out to be very pretty!
~ Colmar Tropicale ~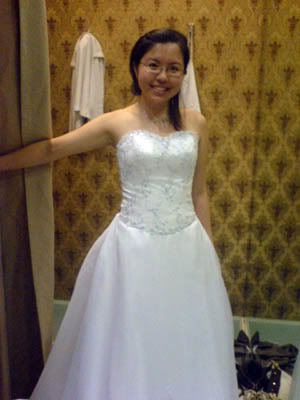 pretti pretti huiling~
Me was really tired over the last fitting at my own bridal studio that i told myself i won't try any more gowns. It's really tiring as u change in and out of the gowns, get scratched by the beads sometimes needles as well =(
But this gown tempted me! really lurve this pale pink lacy mermaid cut gown.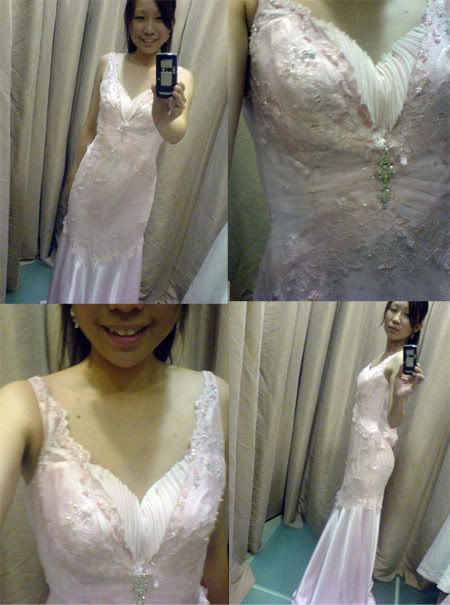 Enjoy the weekends! dim sum later =D
Labels: Wedding
Kiyo 到此一游 @ 9:27 AM