Monday, March 12, 2007
*~*~*~*~*~*~*~*~*~*~*~*~*~*~
My dresses
Bought 3 dresses in all! ~ 2 from bysi as they were having their end of season sales and 1 from raffles place. Spotted that dress before chinese new year but was still thinking of buying it or not and before i came to the decision, it was after cny already and their end of season sale!
happizz. saved me some monies.. hee hee
Was in a pretty good mood yesterday so took pictures of my dress.
Brown is the new Black
. Lurve this! It's a tube dress with a big ribbon in front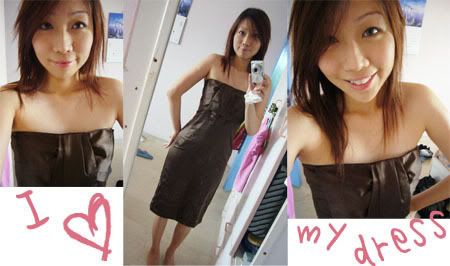 Another dress from raffles place. If it's not a function that i'm attending on friday, would not have wasted the monies, but as the saying goes, shopping maniac doesnt change its spots. =p Anyway it's just this time round.. no more.
I hope
. Lurve the colour and texture and the cutting looks ultra vintageee~ Wish i can find an evening gown in this colour. =D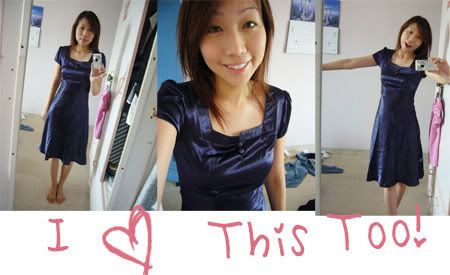 The photoshoot gown selection at Julia was quite alright. It can be fun and tiring at the same time cos we went straight after work without dinner. They have really nice gowns & I really have no idea which to choose! Have settled on 2 of the 3 gowns I'm entitled to. Only spent about 1 hour odd for the gowns. It's a pity that they do not have many off-shoulder gowns. Their nice ones are all in bustier... kinda boring. Will go down in 2 weeks time to try more gowns again..
Took some pictures using my phone although we were strictly not allowed to. They are scared that people steal their designs. =______=
A glimpse of the ROM dress my coordinator selected. Since it's free, i will take it! plus rent from justgowns hee hee..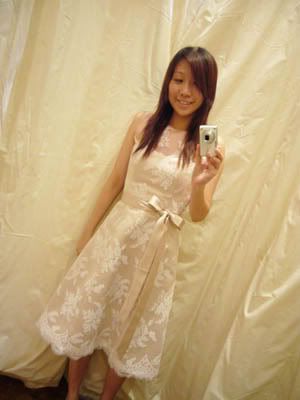 more photos at my multiply..
Went with Josephine to Olive Suite and Fairy's inc to take a look cause she's getting married as well. Their dresses are nice! but expensive of course. An ROM made to measure package will cost about 600 dollars. There's this dress with a very nice victorian brooch. Going to find a similar brooch to use it on my other dresses. If everything fails, will just get the brooch from her!
(darn cheap skate =p)

IT show thereafter!
Although Marcus has advised me to get our hard disc drive and thumbdrive at Sim Lim cos there shouldnt be much discounts anyway, we just want to go there and take a look haha.
Cannot imagine we squeeze in the crowd to get just one thumbdrive and a portable hard disc drive. Cannot stop laughing at myself.
2Gb thumbdrive for 38 bucks was another steal~
4 more days to weekend..
Kiyo 到此一游 @ 10:50 PM