Saturday, March 17, 2007
*~*~*~*~*~*~*~*~*~*~*~*~*~*~
I've done it again.
Bought things AGAIN (on friday)
EVERYTHING I bought was NECESSARY hahaha.
Okay bought this dress at 30% off from Joop. A casual weekend dress. eh.. Do you think I should just wear it out later? Cos there's this thing about sales...You are getting one piece out of their 300 pieces and may just knock into someone on Orchard road wearing the same thing as you.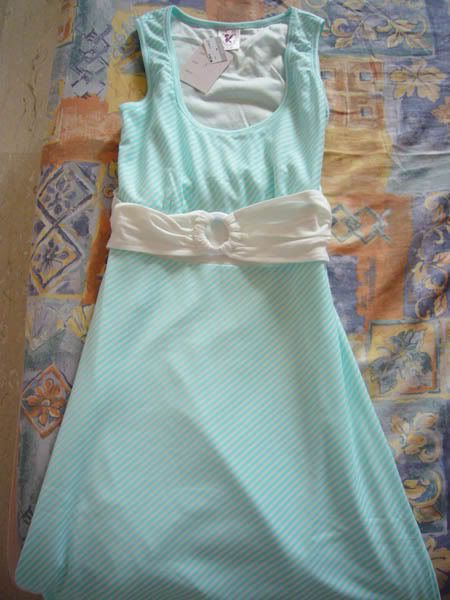 I have not come across that
YET
but I have seen people who have the same piece with me (but different colour!!!) Even my recept pointed out to me when we went to lunch.
"hey, this was the one you wore the other day!"
=____=
I wasnt wearing the same one that day nah but it was obvious that it was from the sales as the sale was ongoing during that period of time...=p kekekeke
Went to meet Cheryl and Huiling at Tanjong Pagar to accompany them to look at the gowns. Huiling havn't sign up for any package yet so we are helping her to find a good one. Went to La belle Couture, Digio, YC. La Belle Couture has quite nice gowns and pretty good service. The coordinator ling ling really knows her stuff well and recommended cutting that suits all of us hee hee. So the 3 of us had fun trying gowns!
Only managed to snap a pic at Digio..
Off-shoulder gowns..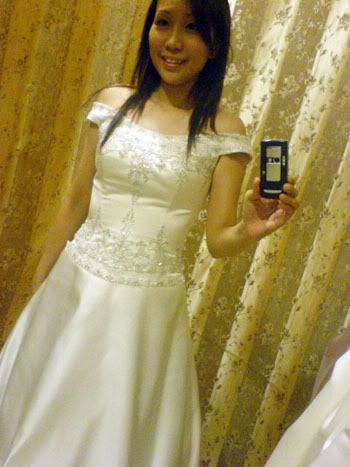 ]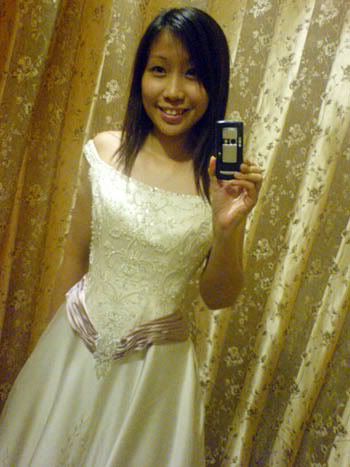 this one much better.. I lurve the Sash!There's a big ribbon behind!
Still glad I signed up with Julia as their cutting of the gowns do not really fit me well.. Makes me look as though I have a thick waist!! SUPER FUGLY SIANZ
Post pics of Darren wearing suit later whahahha.
We found a super good lobang. =p It's fun planning for a wedding, especially the finding
lobangs
process keke.
Kiyo 到此一游 @ 11:07 PM