Wednesday, December 06, 2006
*~*~*~*~*~*~*~*~*~*~*~*~*~*~
Bought the most expensive "thing" in my entire life today!
Our

love

nest!!!!!!!
Woke up in the morning at 7am!
*gosh*
on leave still so stress, woke up at my normal timing cos it's the
'select our love nest'
day. =D Was monitoring online on how the units are snapped up and aiming at the ones I want..
mum and dad went with me and his family came down as well, even baby xixi. heez..
It's our first unofficial "parents-meet-parents session". At one point, all of us was so engrossed in choosing the units that nobody paid attention to xixi until one of them realized that she was missing!!
luckily she was just around us (a little out of our sight) but climbing onto one of the tables there.
We "upgraded" our relationship too.
Now it's no longer Darren, my boyfriend, but Darren, my fiance. haha
Cos we bought the unit under the fiance/fiancee scheme. The officer made sure we know the penalties if "something" happened along the way. oopzz
Very overwhelmed today, as it was a really tense situation at tampines looking at those units.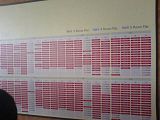 the red ones were SOLD

the painful wait...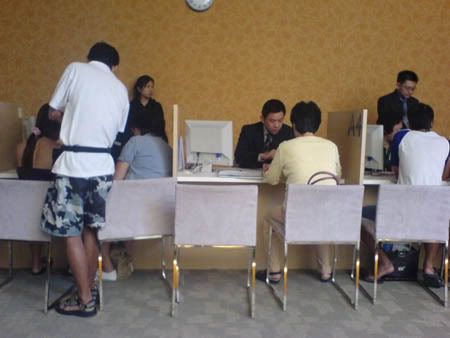 Told ya it was tense. we were the last 100!! he's sulking cos it's not our turn yet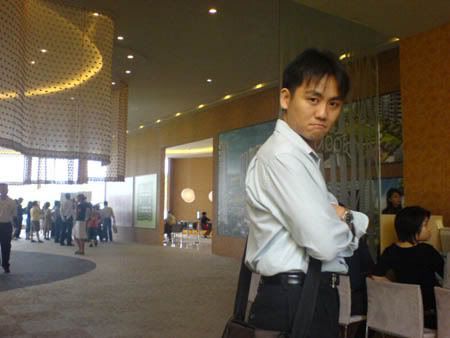 we were really really REALLI lucky to get the queue number. Very thankful..realli.
almost cried when i booked that choice unit. abit kua zhang but true.

Have been reading online about how expensive it was, and hearing some guys saying that it's not worth to pay for the price. But a place we can call home don't come easily, that's why we did not hesitate to buy it. We managed to get a 15th floor unit, my 1st choice layout.. still within our means. I love it just as much but guess it's no more shopping, cut down expensive dinners and tours kinda thing from now on. It seems rather fated.. we were given a piece of paper to list down the units we want and soon after that, all our 2nd choice to 6th choice were taken up except our first. I must go to the temple tomorrow. =D

our first photo after the booking at the counter *beams*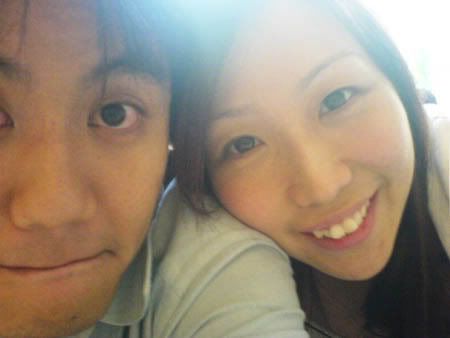 Living room layout will look something like that in the future, with a balcony. =D
colleague was still telling me the benefits of having a balcony, cos can do
YOGA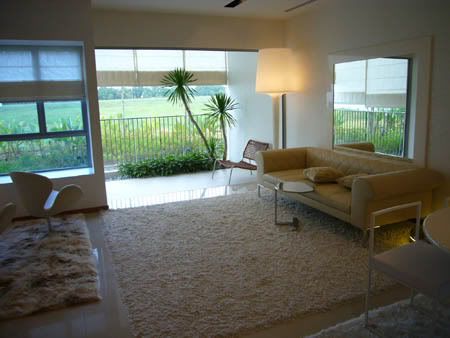 =____=
hahaz.. for everybody to see? just try it and u will be in the news the next day hahah
Anyway, It feels good to be working towards a common goal.
It has been a really happening day for us.
I am SO SO SO HAPPIE !!
can don't study? ;p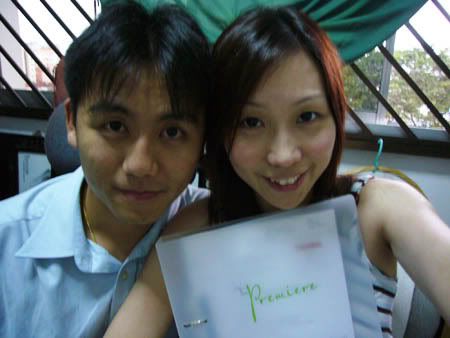 Labels: Home Sweet Home
Kiyo 到此一游 @ 11:58 PM