Saturday, December 09, 2006
*~*~*~*~*~*~*~*~*~*~*~*~*~*~
One paper DOWN!!
Must pamper my..... fingers a bit. oh well.. fingernails in fact.
There's always a
excuse
reason to pamper yourself.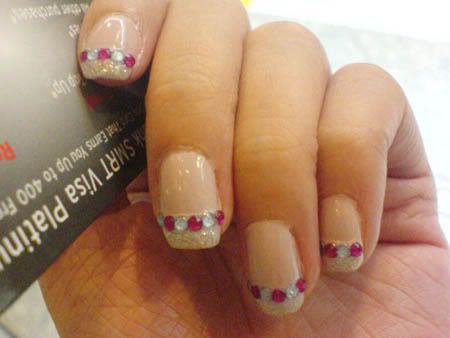 Rhinestones on my nails!
think it looks more like jelly beans on the pics..
=___=
Did this after my paper while waiting for my financial advisor at bugis.
he's good! i'm going to entrust him to make a full plan and heed his advice on investments keke
Have 2 weddings to attend tomorrow. heezz.. really like 赶场.
One wedding lunch and one wedding dinner.
Foresee stuffing myself to death tomorrow.
A fatter tomorrow.
yay... sounds like a good title.
~~~~~~~~~~~
Logged into singapore brides and realized people have started a yahoo group on the premiere to "Find your neighbours". So interesting.. kekekzz
They wanted to set up a E-neighbour group so that people can get to know their neighbours and make more friends even before they move in.
Added some of them into my msn and looking forward to discussion of the developments!
~ Join the Premiere(find your neighbours) ~
Kiyo 到此一游 @ 6:22 PM