Saturday, April 08, 2006
*~*~*~*~*~*~*~*~*~*~*~*~*~*~
Abstain from shopping for 18 days
I'm fine ler.. thanks for all the concern. Just that I need to stick to spectacles for the next few days and continue those eyedrop treatment just to be on the safe side =D.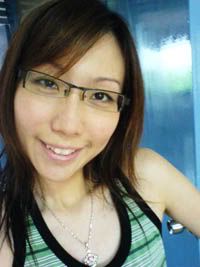 Technically speaking, my taiwan trip is only 3.5 days as I will reach Taipei at about 5.30pm.. So many things to see, so little time. The book Sin lent to me was really good, even had recommendations of eateries, how to go as well as opening hours.
My draft schedule!
Thursday
- XMD and Shi Lin Night Market
Oh Friday is a day for 女人我最大 buys!!
Friday
AM
-排骨大王 for Breakfast
-第一化工行
-福大蒸饺 (near Zhong Shan mrt)
PM
-Yang Ming Shan
-新北投 hotspring!!
-Shi Lin at night again~
Simply hearrrtt hotsprings~ but i'm choosing those that you need to wear swimsuits, really paiseh to walk around in my birthday suit. Went to one in Odaiba previously with my homestay okaasan. Trust me, it's kinda strange, just not used to seeing so many
nehs
at the same time
Saturday
-Soldiers change shift thingy..
-Ding Tai Feng
yes.. I know there's a ding tai feng in Singapore too but then, we do what tourists do. hahah
-Taipei underground mall, Taipei 101, NYNY
-Zhong Xiao Dun Hua (visit jay chou's shop! at 忠孝復興) and 台隆手創館
-Long Shan si 龍山寺
-Still havnt decide whether to go Shi Da night market or Xi Men Ding. hmmm...
Sunday
-Jiufen
-Wu fen pu!
Going to go crazy here.. I need a wardrobe revamp!
-Rao he Night market
-Xi Men Ding
Monday
-鸭肉扁 for breakfast
-Xi Men Ding
-Home =(
Have to work on Tuesday.. Didnt take leave on Tuesday, hopefully my boss wont be in so I can get another day off~
Counting down 18 more days to my "大开杀戒"
Kiyo 到此一游 @ 9:44 PM