Tuesday, April 18, 2006
*~*~*~*~*~*~*~*~*~*~*~*~*~*~
I lurve Fatty Kong Bah Paos
Okay I admit.
I go to the same acupuncturist that alot of podders went for to treat their not so endowed areas.
*erhem*
Was supposed to meet up with one of them to go down together too and we promised to go shopping after our next treatment.
What a nice way to make new friends *grin*
She went for the slimming session and was kinda scared cos you dont get people poking needles in your thighs everyday right?
Found the information in the all-famous flowerpod forum where loads of gals are going as well. It's quite scary to think that there's so many of them going to the same place for the same treatment~
Anyway, there's nothing wrong in wanting to look good.
But there's a limit to it of course.. I dont want to appear as an airhead. *but most guys like airheads lo!*
Believing in poking a few needles here and there will help slim down an area or enhance assets does not mean that i'm one airhead okay. We are talking about a few thousand years of history here. Even if it doesn't help, I believe it will actually improve my health in one way or another. The needles don't really hurt... I can say my facials are at least 50 times worse than that.
But if given the choice between big assets or smooth skin..
Without hesitation, I will STILL choose the latter.
That is why for the past 20 odd years I took comfort in the fact that my skin was still quite alright...Have my bad days of course, but what can be worse than the adolescent nightmares of having classmates calling whatever terms they can conjure out of their imaginative minds to associate me with the long, thin and 2-dimensionals.
The friends I have.... tsk*
Cruel, they are.
Oh ya.. ate my favourite fatty meat...XI HU KONG BA PAO yesterday.. BURP~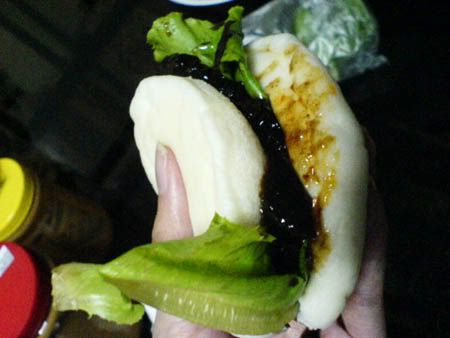 Oily and fatty.. my favourite~
~~~~~~~~~~~~~~
In order to continue my pursuit of perfect, radiant skin....
Attention avid fans of Nv Ren Wo Zui Da (:
A spree for NIU ER BEAUTY STUFF is NOW ON at
LADIES.PROBROADS104.com
lalala.. act fast dearies..act fast..
Labels: Beauty Buys
Kiyo 到此一游 @ 9:36 PM