Monday, April 10, 2006
*~*~*~*~*~*~*~*~*~*~*~*~*~*~
Caught the Superband competition yesterday on tv
Boi~ some bands were REAL good. I was watching with my mouth open, not dripping with saliva of course.. but then it's amazing to see that they look more like full fledged singers rather than contestants. Yesterday's contest were more of a rock concert than anything else.
Especially the group, Soul.. they can dance very well and their choreograph was great. Definitely beats boy idol groups in Taiwan hands down. Looking forward to see them dance again.
There has be a spur of such "super" activity on TV lately I noticed. From Super host, Campus Super star, off-campus Superstar and now Super band.
Super beings are everywhere in Singapore.
Went to Tiffany and bought something today.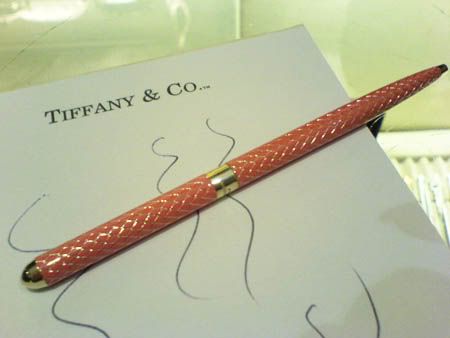 ......
......
......
But
NOT FOR MYSELF
.. =_(
It's a shared gift for a colleague who's leaving so I was the one "in charged" to buy.
Buy but cannot Keep.
SIANZ
It's so sweet! I want one too.. = (
I know...I can get it myself if I really want to but dont think i will spend my extra bucks on pens cos it just doesnt justify!
Pens are like.. gifts for people wat..
Tsk* in the meantime, I shall stick to my Pilots and Kilometricos
Kiyo 到此一游 @ 9:53 PM