Sunday, April 16, 2006
*~*~*~*~*~*~*~*~*~*~*~*~*~*~
Enjoyable times always fly.
The long weekend is almost over too. = ( And tomorrow I will be back in office facing a day of meetings.
But the next long weekend, will see myself in Taipei!hoho So looking forward to that.
Yesterday we had fun practicing Dont Cha and I can say that was really the best practice so far. Thanks to the professional dancers (aka the B team) who so patiently fine-tuned our uncoordinated moves and now, we look more confident than ever.
We danced almost non-stop from 3-6pm and the aftermath of the dance practices are or-chehed knees and my calves, thighs and... butt especially hurt big time. Didnt sleep very well last night, just dont know why it hurts when I make a slight turn. *tsk OLD BONES*
And now our name changed too, we were A-Team where A stands for Amateurs so when JOY commented that A will stand for something else after watching our practice, the first word I shot out was "
AVERAGE
.." Than Virgie said.. it should be
"ANOTHER TIME"
whahhahah -_-.
Had a fun time taking pictures in the studio cos they now have a mini-shop within the studio. From bikinis
(if i'm not that small, i would have bought that pink bikini darn!)
to eyeshadows and even wigs.. -_-
Look at our tai-tai in the making... bringing her dog for some high-tea session on a perfect Saturday afternoon keke.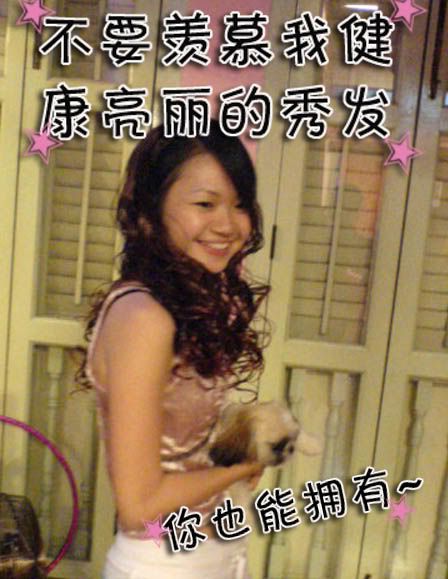 wee weet! How to yong1 you3? Buy lah!
Talking about wigs... I have one myself
*blush*
Wigs are not only for baldies or clowns hor...
It can make you look like you have SUPER long hair too, especially when you crave for long hair and they just don't grow longer.
Bought one with curls when I was 18 *don't ask me why I bought that.. I cant really recall, it's too long ago*.
Good for Retro Parties.
It looks very real and soft & I have people coming up to me asking me where I did my hair when I wore that. I just tell them :
No need to perm. You can just get them off-the-rack at

*some departmental store name*
Anyway, tried locating my long-tucked-away-in-a-corner wig and FOUND IT!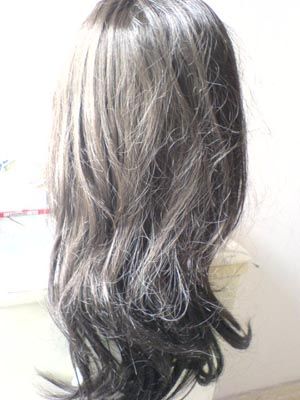 It used to have really bouncy curls but it has since straightened due to MY LACK OF CARE =(
Maybe should get virgie to give them some curls some day to revive them.
Was so "into" wigs that I even bought a "
friendly-looking"
Styrofoam head to put my wig onto. tsk tsk tsk.. Looks scarier at night though so now they are all placed in the cupboard, long forgotten by its owner~
....
....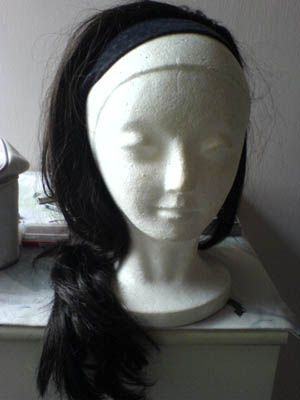 she has a slight smile on her face keke.
Tried on some caps in studio and took a photo with virginia.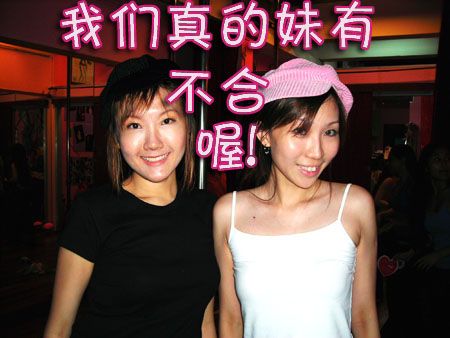 I should have tried on the white one instead than we will look like we can compete in
SUPERBAND
as Nan2 Fang1 Er4 Zhong2 Chang4 liaoz
(南方

"饿"

重唱)
Dis is what I call the tai-tai flirting with young artist.
Please dont touch my *erheM*, my dear..
although I dont have much to start with.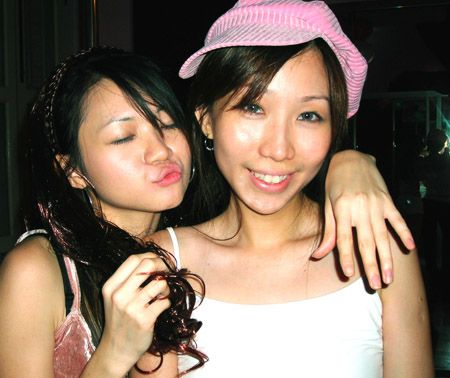 MOS yesterday.. my sis was telling me why I went yesterday cos most of the people will be in zouk.
But anyway, we had loads of fun too with ppm's friends, Ilane and some of her friends. Oh ya, and the 2 honkies
(Lei2 Hou2, Lei2 Hou2)
that kept IMMITATING OUR DANCE MOVES. We are friendly people and we want to help Singapore earn the tourist dollar so we immitated them as well. *yawnz*
Same pose, same smile, same people.
Wonder why we took so many pics... -_-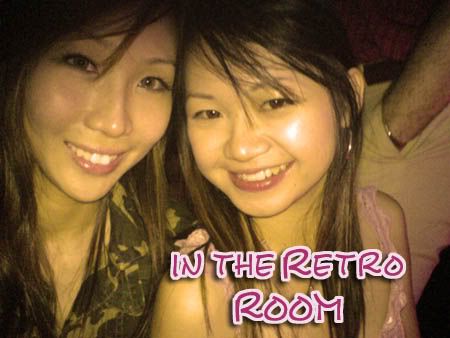 picture must have some retro feel as well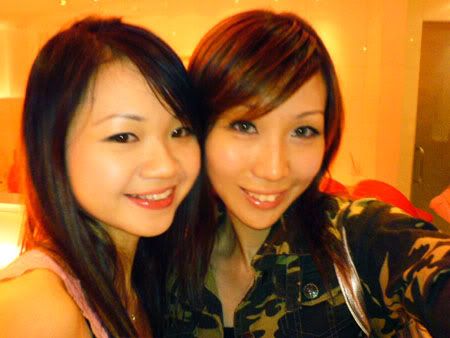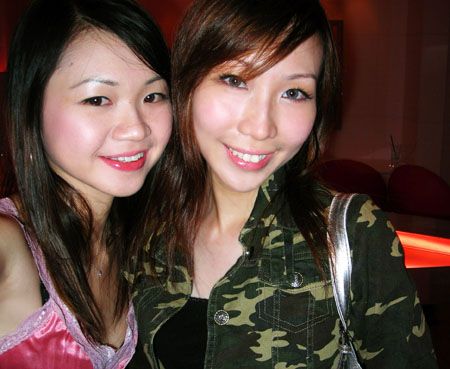 And gerald have some opinions on my army jacket cos he thought his army jacket has LACE as well. *he doesnt really know what is lace* I hope he knows how to differentiate between
~ Corsets and Corsages ~
now.
gerald - swimming says:
wahhh
gerald - swimming says:
wats wif the army jacket?
kiyomi : Job Scoop?!?! says:
SHUAI
wat hahah
gerald - swimming says:
shuai meh
gerald - swimming says:
i also got army jacket
kiyomi : Job Scoop?!?! says:
my army jacket got lace one kay
kiyomi : Job Scoop?!?! says:
just didnt see onli
gerald - swimming says:
my one also got lace one

gerald - swimming says:
hahaha
Got lace than a bit
GUA
aredi ~
*guaguaguaaaaa*
Kiyo 到此一游 @ 2:24 PM