Thursday, September 15, 2005
*~*~*~*~*~*~*~*~*~*~*~*~*~*~
*Yawn*

So tired these days..Just came back from Darren's house to have dinner with his mum and sister and 2 cute ones and also to deliver some mooncakes.

=)

The two ke ais...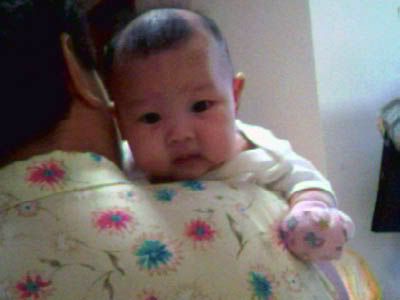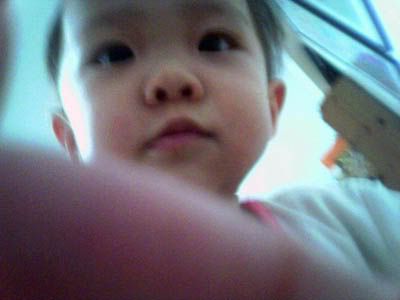 Kaili taken a few months ago when I visited them. Coaxed her into the room and put my shades on her. she's really cute with loads of expressions.
Babies grow fast eh...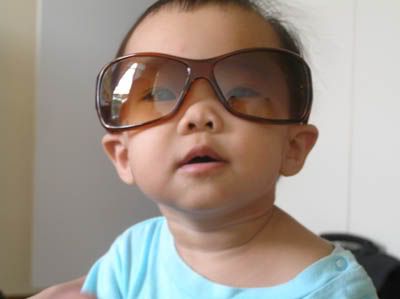 Kaili now can speak more words now and it's really fun talking to her. She calls me by Name, 清丽.. (and not auntie) wahhaha.

I couldnt get the Raffles champagne truffles, =( I didnt know it is that HOT. It was sold out and I didnt do any pre booking. I actually called on Monday wanting to reserve a box but they said they were closed for orders. Okie WELL.. I bought the Carlton hotel one which is from Wah Lok Cantonese restaurant. It looks pretty good as a gift too and I lealli got the FREE walnut or green tea body scrub voucher at some spa. Think will use that when I come back...

Just booked my accomodation in Perth too. (I think I accomplished alot of things tonite) at some 3.5 star hotel cos I doubt his friend will be comfortable with a gal around in the room. Will be staying several nights at their house though to save some monies..hee hee

Havnt been planning much on my holidays as I was rather lazy and beri beri tired. Wanting to plan some horse riding session at Swan Valley but dont really know whether Darren knows the way. Anyway, it's in my plans..Strange isnt it? He is the one in Perth and I seem to know better where to go and planning the itineray. He always said "hou ar" "hou ar" in cantonese whenever I said I wanted to visit dis dis dis, dat dat dat.. hur hur hur.

But one thing for sure. He had asked jon to write him a list of good shopping places and will bring me there. I was like

-_-'''

"Yeah, yeah you sure know me well"

Anyway, this trip will be more of a relaxing-enjoy-the-nature trip, but dont think you will catch me hugging a koala bear or milking some cows or wat. I'm not really a "farm" person.

Even planned a cheong-ing session, maybe on Saturday night. Think I can cheong at ease only in Perth, no ringing of phones from mum asking me to go home.. haha seriously, dun expect it to be as good as Singapore, but the company is more impt rite?

Revisit Perth schedule

21/09 -- Depart Singapore via valuair (i got to take cab there cos my dad's car kena bang by somebody! dis is another post for tmr)
22/09 -- am Harbourtown & Carousel
pm Swan River brewery
Late nite town shopping
23/09 -- King's Park Wild Flowers Fest
Fremantle weekend market!!
24/09 -- Swan Valley
Trail riding at Brookleigh Estate (TBC)
Cottesole Beach
25/09 -- Garden City
Northbridge & Dinner with Daph
26/09 -- Perth Royal Show
R&R
27/09 am Currently nothing to do
11.40 pm flight back to SIN
28/09 -- am Concuss in SIN
pm Facial at Revival with Rachel

Rachel.. Dont forget!! =)
Kiyo 到此一游 @ 10:16 PM