Tuesday, September 20, 2005
*~*~*~*~*~*~*~*~*~*~*~*~*~*~
I'm so happy today!
Not because I'm going to Perth tomorrow, it's because I got the Elle magazine!
Chey~
What's so happy about getting an Elle magazine..
I was at Raffles Place during lunchtime to help my boss to do something when I saw this booth for elle magazine. Loads of freebies come with it. I grabbed it without thinking twice cos a Romance body lotion (50ml wor!!!) from Ralph Lauren was included too!!
Really love this body lotion, one of my colleagues in office always uses this body lotion and the sweet scent always lingers after that. A very good perk-me-up! After applying this lotion, there is no need to apply perfume any more as the scent really lasts. Really love this, if I see any travel size kit around in Terminal 1 tmr, i will definitely buy =)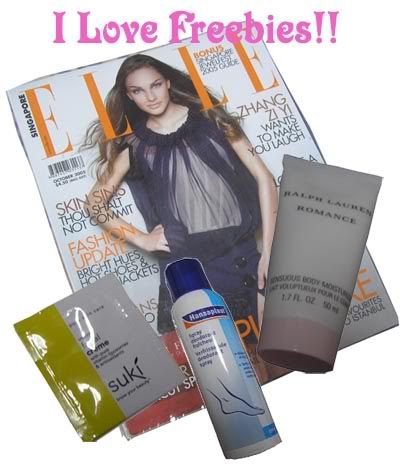 (I know my photoshop kanasai, but i have no time..)
Other freebies included...
1) Deodorant - I dont think my feet smells but..anyway.. I shall use it for my shoe cupboard.
2) Loreal foundation and Soo Kee vouchers (which I dont think I would use), and comes with a one-for-one haircut! who wants to go?
Think the booth will be there till tomorrow. =D
Kiyo 到此一游 @ 10:20 PM