Sunday, August 14, 2005
*~*~*~*~*~*~*~*~*~*~*~*~*~*~
Went shopping n xotic dance again.
The dance is getting more and more interesting. Although it's still quite slow
(which it was supposed to be)
, the moves are getting more complicated and very sensual. Esther didnt managed to make it to the class so yesterday's class was only ppm n me. Both of us laughed alot yesterday as ppm nearly banged into the pole
twice
! Heng the teacher didnt see.. hahah I nearly died laughing in there. *opps*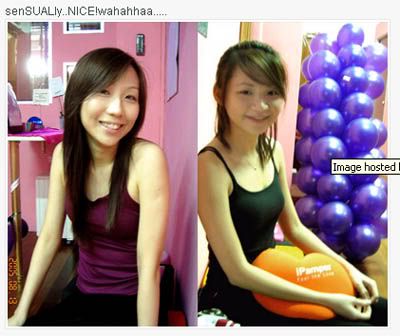 ppm's not in.. so only thing is to leach!! haha (why my eyes ALWAYS look SO SMALL when I take pictures? Can I WAKE UP??? Next time pls wake me up first hor.. hee hee)
Joy is starting a MTV-xotic dance which will be a mixture of hip-hop moves & sensual dance which i'm really keen to go. I need some fast Boa or J-lo or watever dance moves...
Met up with xdd to buy some stuff
(not my stuff okie hee hee)
. We were not very concentrated as he wanted to look at
HIS
stuff, I wanted to look at
MY
stuff and we almost didnt manage to get
HER
stuff. In the end, he bought a jacket which was quite nice and I bought a jacket too! Of course the pressie is settled as well.. but i'm not going to say what it is! It's really nice, i almost wanted to get one for myself too, butthen..
no budget!

The jacket I bought from Indulge couldnt really fit me and Dawn the SA told me to get it altered by the tailor near their shop. He's good! and fast! He charged me 2 buck only and he managed to alter that jacket to a slim fit. I am going to dig out all my clothes that need altering and i shall go to him in the future. =D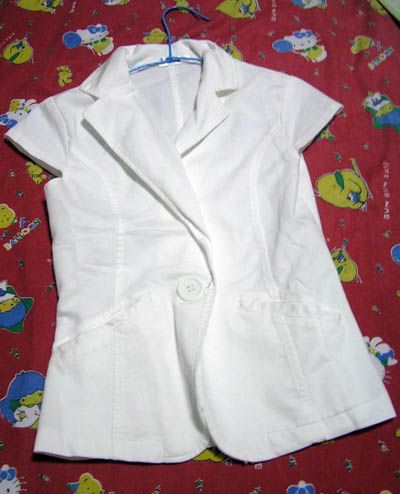 Watched Bewitched after that.. NICE SHOW! some might say it's only so-so but I like nicole kidman! She's a natural.. Her hair is great, I love her wardrode, her full skirt which I believe it will be the IN-thing very soon. & the twitching of the nose part is damn POWER...I tried.. but i cant. I look more like a MOUSE. wat witch??
~~~~~~~~~~~
Sunday
Today woke up early in the morning to go to gym to see 1 auntie eating
ROTI PRATA
in the changing room.
-_-'''
I think she's working there but dont they have a pantry or something? The whole changing room was full of Roti prata and curry smell.. argggh... The most 'arrgghh' part is that.. I didnt have breakfast & I WANT TO EAT TOO!!!
Kiyo 到此一游 @ 9:35 PM