Tuesday, August 16, 2005
*~*~*~*~*~*~*~*~*~*~*~*~*~*~
Still thinking whether i should wear yukata...to the Summer Festival this saturday..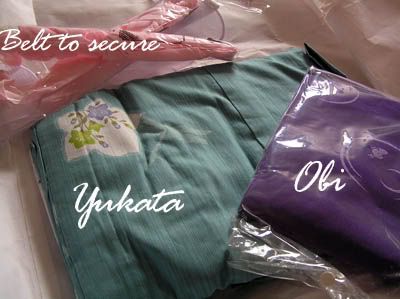 Really love the colour..
Tried it on Sunday and it was a total
lao gua
(sweating) experience. So hot !!
and it took me more than 1/2 hour to tie that obi in front of the computer while watching and pausing the video of "how to tie an obi".....
The last time I wore this was about 2 years ago?? I totally forgot how to wear!
Arrgghh..
NOW I realized the benefits of those ready made ribbons where you just hook it behind your back and voila it's done! Maybe I will just go there and rent one. Think my sis is going as well.. wahhah....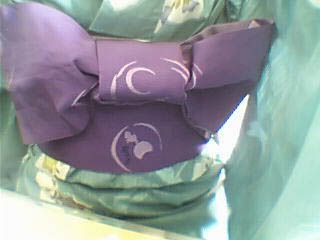 Had lunch with Panda from sfc today. He was around my area visiting clients so he met up with me for lunch! for the first time..after almost 1 year of chatting..and complaining.. He always gets the brunt of my complains n my mood.. everytime i want to complain about work, bitch about somebody, scold vulgarities.. I will find him on msn.keke
He was carrying this black bag that looks very much like those hk robbers who are going to rob banks or jewellery shops..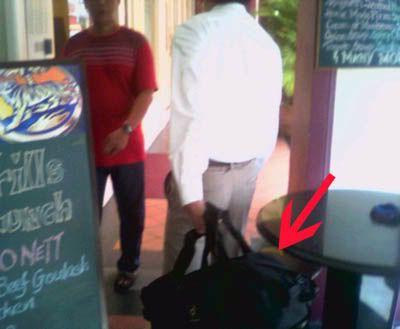 But actually it is his gym bag.. Another gym fanatic!
It was quite interesting talking to him during lunch.. I was ordering chicken rice and I told the auntie 我的鸡肉要皮的...
(yes you are right, i love chicken skin although it is real fattening and my chicken meat always dont come with the skin, which i dont know why!? )
than he.. being the health conscious 'I-eat-no-skin' said SERIOUSLY to the auntie.
Panda
: than auntie, 我的不要皮.. 我的皮给他..
buhahhaha.....who wants to eat Panda's 皮???
Than I told him that i will bring him to this Ah Chew dessert (阿秋甜品)at Liang Seah..I wonder whether it was my pronunciation or whether something is wrong with his panda ears..
Panda : ah CHIO 甜品?? Jia liao eh CHIO bo?
this happens to be MY jia liao
BUEY
chio tian pin.. =)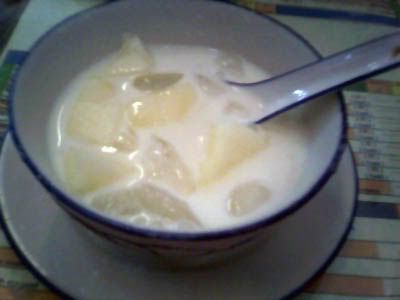 Kiyo 到此一游 @ 9:25 PM