Sunday, August 28, 2005
*~*~*~*~*~*~*~*~*~*~*~*~*~*~
Hi all, this is Gerald aka XDD here…. From today onwards, I will be the one posting in this blog instead….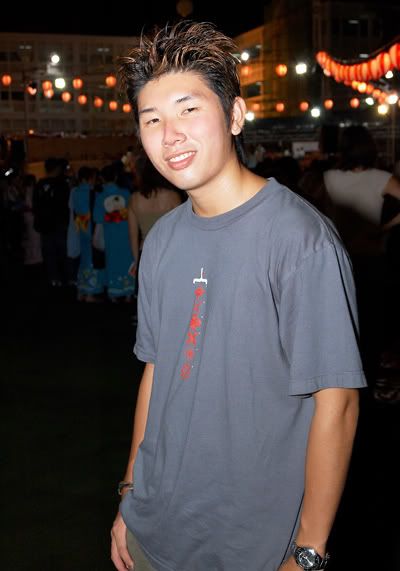 kiyomi : peekture taken by me.. buey pai ritezzz..haha



HAHAH LIKE REAL !!!!

Ok…over the last few days, my 姐 has been feeling abit dejected and in the non-blogging mood...So... Today I take over as "resident blogger"...

So what should I blog about…my first time blogging….

Ok ytd morning I did some part time job as a marshaller at MacRitchie reservoir for a charity run…was stationed at the junction between the male and female jogging track to make sure no one "geng" and run the girls route…I doubt any girl will so STUPID go and run the guys route ritezzz…EXCEPT one hahaa…

Halfway thru the run…two Caucasian women(not from the event) jogged passed…took a look at me with the flags and the signboards (labeled MEN and WOMAN with arrows) and said "we're MEN" & they ran the longer route....-_-

Towards the end…I saw a monitor lizard "crossing the road" from the jungle to get into the water….man was I frightened...tot I saw a crocodile...
kiyomi : wah lao eh..monitor lizard oso can see as crocodile buhhahaha



kiyomi : wee weet.. 2 shuai didi in the making.

my cousin and grandparents came over last night….
intro u all to my newphew Triston… u tink he's cute? I tot so too...AT FIRST.

Ok it takes 5 pple to feed him...one to hold him, one to feed him and at least 3 motivators to entertain him when he is eating.....REALLY good life hor!!!

His porridge last night was worth half a cup of rice, and looking at his body, only the size of a sofa pillow…he can eat so much, really abit the erhm hahaha..

Anyway…tt's all I did for ytd….pretty boring coz I was suffering from extreme lack of sleep ….

Over to my jie…. I tink I am v zun….she really got the vouchers for cold storage hahaha….
We were accessing just now…and happens tt 30 dollars worth of vouchers actually only can get 8-9 packets of ruffles potato chips…. I tink the prize is hopeless lo
Hahaha

Oh btw…my 姐 is treating dim sum at xiao hong lou at pan pac top floor…anyone wanna come juz say so ok…. Hahaha…..

Convenant without swords is but mere words!
XDD

~~~~~~~~~~~~~~~~
Excerpt from Ki..

I asked xdd to try blogging since he never blogged before. He usually writes articles with very chim english about very philosophical topics like "love or lust" , which i thought will be interesting to share...

But then..that was WHAT he sent me instead. Please dont believe the last sentence about the treating part above.

(lalala) I cant hear you...

Wasnt feeling too good this weekend and I didnt go out AT ALL! Was at home since Friday...AMAZING! Someone go buy 4D! May tio you noe..Something happened and made my mood VERY bad. I actually wrote something about it but decided not to post. Shall save it in my draft folder to serve as a constant reminder. But it made me realized one thing... Some people who may appear to be your friends.. may have a hidden agenda. I dont care what other people say about me. As long as my friends believe me, that's enough.
Dont even have mood to blog although there were some shopping loot to share. Got a ZARA skirt on Friday when I met up with Gerald for a while... Really love it although it's bery bery expensive! (it really looks very nicole kidman, but my face abit.. CMI)

Went to eat at pepperlunch on Friday at Taka with him. LEALLI good.. I like their hamburger steak!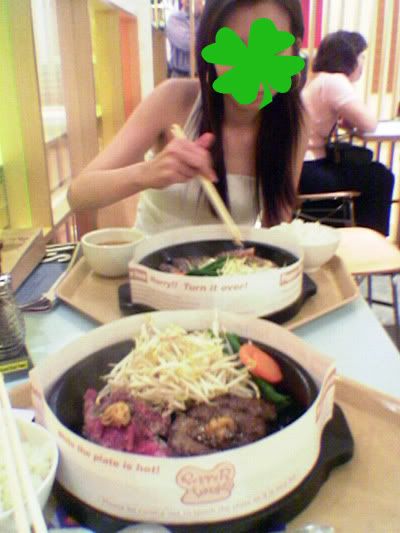 eeeEEkks no makeup, hair messy...FACE BETTER COVER
Kiyo 到此一游 @ 9:30 PM