Monday, August 22, 2005
*~*~*~*~*~*~*~*~*~*~*~*~*~*~
What's on my repeat mode now.
It's 江南.. but not by the original singer Jun Jie. it's Junyang's version. I heard his version first before I even knew about this song. Really nice song. I am so darn slwooooww, Gerald told me this song was very nice quite some time ago but i didnt listen to it *opps* till i heard Junyang sang it...Yesterday I found a like-minded friend! haha. Rachel supports JY too! wahahahah. We were talking about the project superstars the whole night..lamenting why he was out, exchanging links of their sites..& her bro got tics to the finals at indoor stadium! but ji dan!! jy didnt get in so she's not really interested to watch it too hee hee.. I felt like a small girl again wahhaha..I even msned Darren & sent him the songs and asked him to listen.. Or you can say 'force' him to listen ahha
okie.. More exciting stuff during last weekend.
夏祭り! (Natsu Matsuri)
Went with xin, her hubby shuey seng, & gerald. The moment we reached there I was shocked. The queue was darn long! We joined the queue and waited for about 15 mins to go in.. we thought that we were approaching the entrance at last but what we saw next shocked us.
WE WERE IN THE WRONG QUEUE!!!
Than we found ourselves in a LONGER QUEUE!
I was so -_-'' that I didnt take a picture of the crowd. Suddenly I felt so sian.. even xin asked me what's wrong.. I was shocked beyond words upon seeing the crowd.
But the queue started moving after about 20 mins and I went to change into my yukata with the help of a japanese lady.
Tada!
The ribbon she did! she kept saying i'm hosoi, hosoi.. think i dont noe what it means issit? argggh.. hahah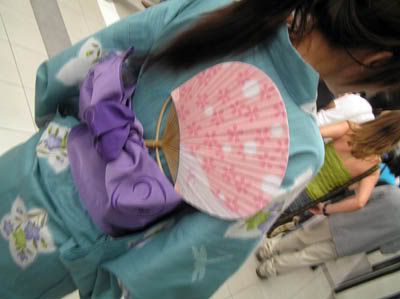 Me with a background of a sea of people.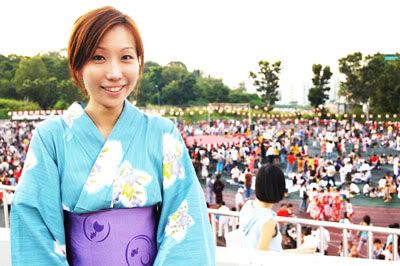 Just reached the matsuri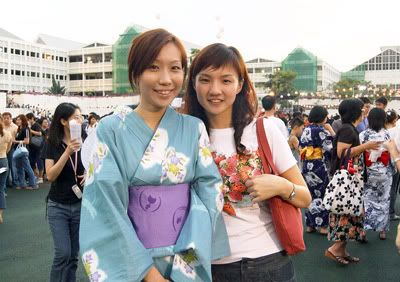 There were alot of stalls selling food and drinks. I ate a corokke. Oishii...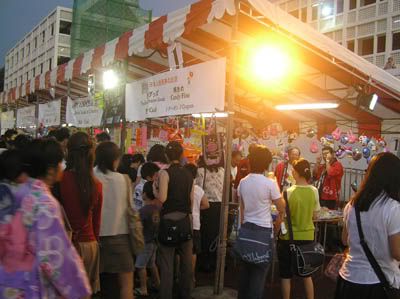 me n gerald trying the V pose. *puke*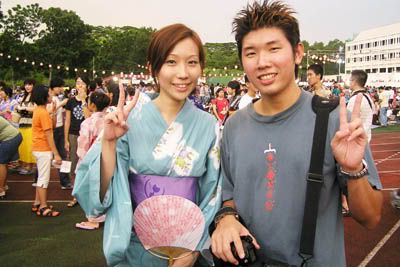 It's getting dark...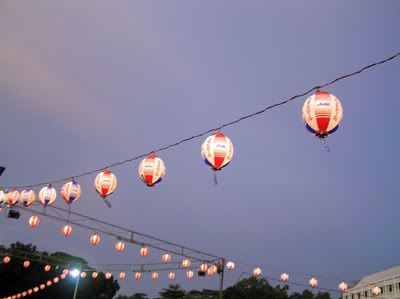 xin with her new hairdo, digital perm.. really nice.. still thinking whether I should do it too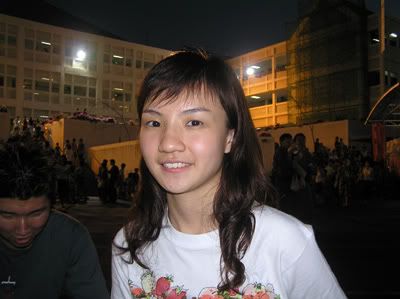 Nice yukatas~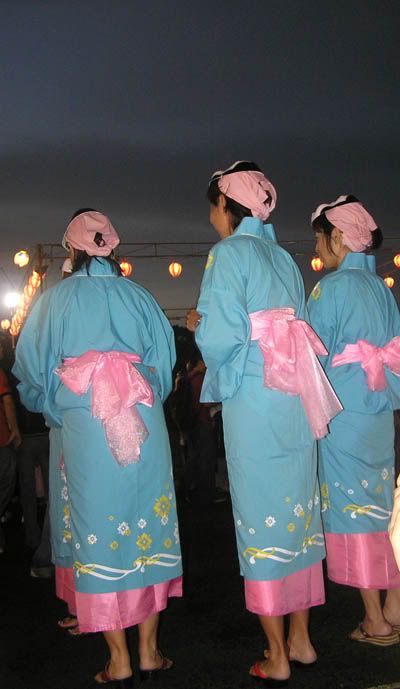 Xdd with his new hair highlights.. so 绝对superstar anot??
I think it's 绝对
SUPER
coffeemix ar! haha Really glad that u FINALLY found ya one.
Be happy and stay happy!!
I can see dat glow man..
keke or issit photoshop?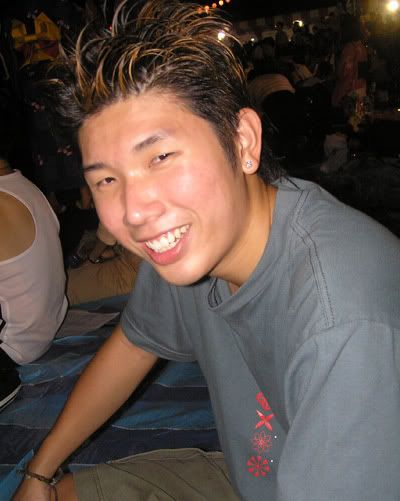 xdd sulking... no 美女! I think he felt very cheated by me.. whahah.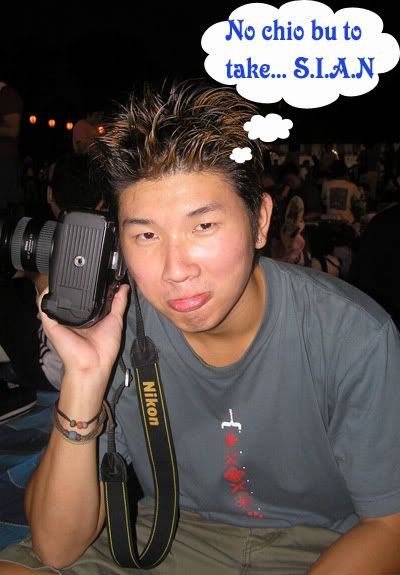 The only 美女 he got...
during the Doraemon Dance.
Trying to test some effects and it turned out quite nice.. really like dis picture.. cos cannot see my face. -_-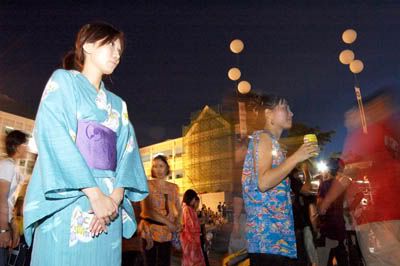 shuey seng, xin and me sitting on the mats and enjoying the performances.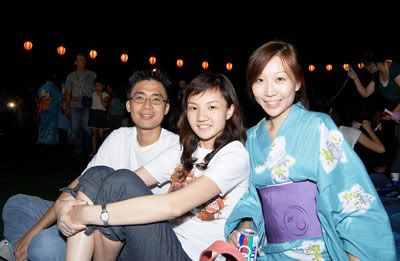 Than the dance started.. It is the bon odori.
There were many types, from Tokyo style, to singapore style and we even danced to the tune chan mali chan. It was very fun as most of the time, we were laughing at each other trying to coordinate to the tunes and instructions.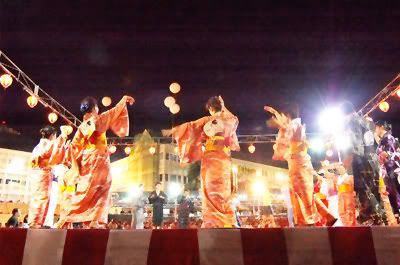 Hotte hotte mata hotte!
This is the only RARE time that you see me so demure and walk slower than normal. Cos the yukata is tight and I cant walk too big a step! It was kinda fun.. and I guess it will be even more enjoyable if you go in a larger group, just sit on the mats, picnic, watch performances, catch up on each other's lives.. Something special out of the ordinary from our normal lives.
My favourite pic courtesy of
Gerald Tay
.
Arigato ne~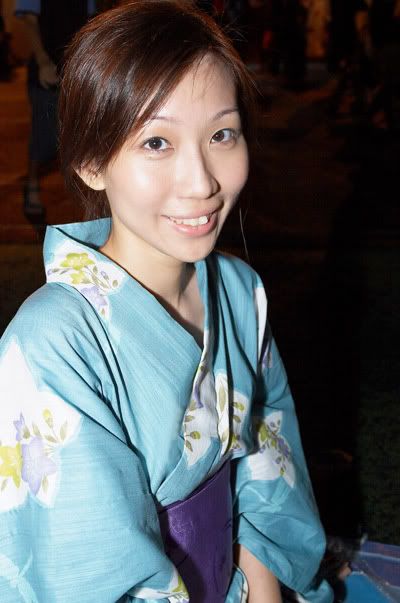 Links I found on Matsuri.
Hexlord Blog
Kiyo 到此一游 @ 9:34 PM