Thursday, August 18, 2005
*~*~*~*~*~*~*~*~*~*~*~*~*~*~
At last Friday is coming..
Was really busy at work this week cos there is a very impt event coming up and there are a thousand and one things to do and stuff to be confirmed and GREAT! nobody is helping me!
Actually, I am so bottled up now that I feel I need to scream but i wont bring those lousy moods to the weekends, this weekend will be exciting. =)
Tmr we will celebrate ppm's bday. yeah! another outing! and I crave for ktv.. it's been quite some time since I sang. I want to SING! & LANCE! to all loud music. I would have gone cheon-ing if my mum allows me.
So please ignore me if I appear to be very crazy tmr.. cos i really need to just let myself go and not think, see or hear any work or even the people i'm working with..Totally FOS I must say.
Watched Project Superstar yesterday. Yesterday was my first time I seriously sat in front of the TV to watch Project Superstar from 8.30 till 10.
And it was only my 2nd time to hear Junyang sing. He's good, really touched me with the song "I want you back" by Blue. Tong hua was okie.. his english song was better and he has a great smile, boy-next door look.
(ppm say he look very kiam pa.. wahahha)
Not really a superstar but i believe alot of girls lurve kiddish n cute guys. I bet he will be even more popular than Sly.
And i just drop a vote for xinhui.. hee hee
In order to make my mood a little better, I went for a manicure just now...The massage was quite terrible, I dont think that's a massage.. it's just some serious tugging of my fingers and pulling them to make them crack.. -_-
My french mani..jin pai kua I know cos my nails too short! But who cares!? I have
pink
barbie nails now.. hee hee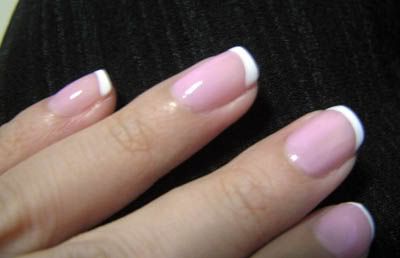 Kiyo 到此一游 @ 9:50 PM