Sunday, August 21, 2005
*~*~*~*~*~*~*~*~*~*~*~*~*~*~
The Wild Cat..
rubbing her or cheh
FINALLY learnt the wild cat crawl on Saturday. We upgraded from the kitten crawl to the wild cat. We have to glide and slide very fast to the other end of the room and not to forget a sexy hair flip as well. Very fun but difficult! Or cheh oso upgrade! 3 or chehs previously to now, double the number!! I wore knee guards sponsored by Gerald but still or cheh. I think i wore his knee guards wrongly.. He told me that the sponge cushion must be on top of the knee, I was like.. HUH!?! got sponge meh?
-_-
This is what happens when you rub bone against hard surface. No fats to cushion!
eeeEEEEKSSS! wah lao eh..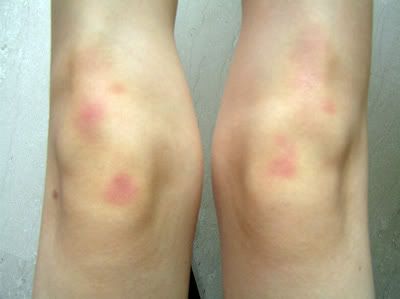 I look like some abused kid.. But please dont be mistaken that exotic dance is very tough and no fun.
No!!
it's just MY knees only! the others dont have such problems at all.
Actually.. sensual J called me earlier before the class started to tell me that they will be preparing a surprise for ppm, the birthday girl! So happy.. so we did a mini phototaking session and cake cutting session after our dance. I didnt get to eat the cake though cos i was rushing for time. =D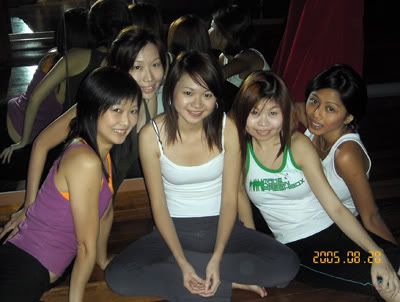 Joy, me
(abit blocked)
, ppm, esther and... hm.. wat's her name.. Didnt ask! *opps*
Kitten crawl!!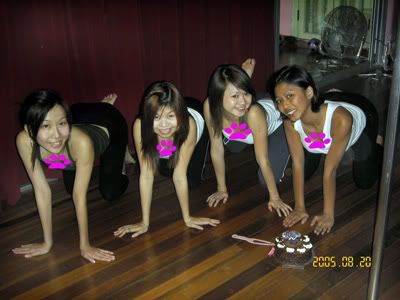 Add a paw for special effects. hey! have to put some paws otherwise wait some of you nosebleed.. actually i dont need to block la.. nutting to see.. but the paw is nice so i decided to put there as well!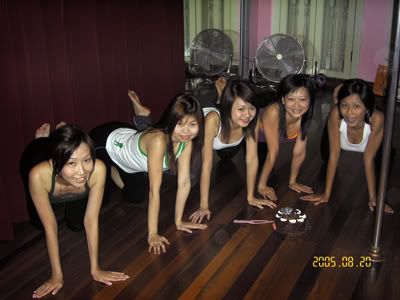 Kiyo 到此一游 @ 4:30 PM