Friday, August 18, 2006
*~*~*~*~*~*~*~*~*~*~*~*~*~*~
I

am

so

high

!!
Exams are over!! Weee~~~
Yay!
having an ecstatic
FEE-LING
(yeah, pronouced the honkie way) now.
hohoho~I want to feast, party and sleep till whatever animals come home.
No more studying till 8 weeks later, the vicious cycle shall repeat again!
But till then, me shall go back to my nua-ing lifestyle
see~ my poor fingers are paralyse now. it's been a long time since I saw that lump during moi exams in the uni. Always have this tendency to grip my pen hard.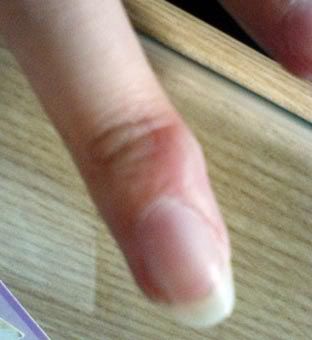 No lessons next week and i have a long weekend as well cos it's Family Day for my company! and here comes the sure win lucky draw again.
Wonder what I will win..
hmmmm...
Labels: Random Rants
Kiyo 到此一游 @ 6:16 PM