Thursday, August 31, 2006
*~*~*~*~*~*~*~*~*~*~*~*~*~*~
I feel very shitty these days.
and when I feel shitty, i will feel like escaping from the norms of life and go travelling.
And when I cant travel
(frankly speaking, i dont have enough leave anymore, taken a few on my trips to bkk and taiwan and plus my examinations...haizz),
I shop.
my buys recently, Cant wait for all of them to arrive!
Shopping really cures all stress.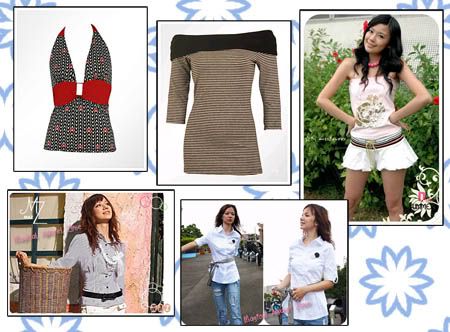 got another dress but not in this peek~
Seem to shop online more than anything else. I want to get skincare!
Darren bought me a pair of berms! lurve it~ hee hee
my wallet has this really big hole LITERARY.
SEE.. never bluff u.
BIG HOLE.

SO..... i need a new wallet too. =)
If shopping doesnt kill the stress,
I kick myself at my tag board.
Think i am experiencing a roller coaster mood thing now.
One moment, i'm high, the next moment, i'm beating myself up.
TGIF!
Labels: Fashion Fuse
Kiyo 到此一游 @ 9:47 PM