Saturday, May 21, 2005
*~*~*~*~*~*~*~*~*~*~*~*~*~*~
Fruitful Saturday
I wore my visor today for a while.. although the sun wasn't that strong and it started to rain in the afternoon.
-_-''
Think I should just save that visor for another day.. Gerald commented that I looked like Donald Duck and refused to walk beside me.
HNG!
Went shopping today.. Saw a lot of stuff.
The picture isn't that clear though. My 3rd top from Mango. Suddenly Mango don't consists of tight and low cut clothings anymore, a lot of boho chic clothings and casuals.
(Or maybe I was always going to ozoc that i just didn't look hard enough)
I bought this top after browsing Simply Her in kino that day.. Don't know why, the model just looks so good in it and I love green, remember? I thought that I could carry the casual & lazy look.. but it looks loose on the model and a little tight on me!?!? Anyway, after some suggestions from my stylist G, he thinks that wearing it off shoulder would be nicer so I bought a Large.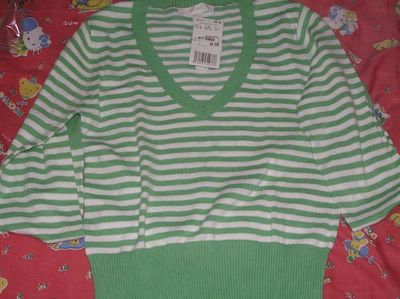 Went to kino to browse at some magazines.. need to get some taiwan magazines. Going to taiwan soon, need to know what's the trend and places to shop. They are having a 20% discount and there were long queues at every counter. And I saw FULONG today at Kino!
(sorry fulong, didnt talk much to you as i was frantically looking for a picture in a magazine.. hee hee)
Came across a shop in FEP and found really nice earrings. And they cost only
$12!! For 3 pairs!!
Gerald chose this...
and this..
the actual thing looks better..
They look even better than the earrings I saw at Forever 21. Looks good on their webbie but actual thing looks kinda cheapskate. Saw a boho skirt at FEP today too. Going to buy it for my friend's wedding. Maybe I will drop by tmr if I don't feel lazy or maybe on Monday if I'm going shopping with sis.. Very scared to go shopping with another shopping queen. We will just BUY, BUY and BUY MORE.
I didn't regret one bit to give up my undone shopping to go combat. My all time favourite track was included today! There's still about 7 combat lessons with meech before she leaves though.. Kelvin didn't make it to his 2nd combat class haha.. I knew he will be late. I was wondering whether he really did the treadmills and weights as what he claimed. He was done and comfortably sitting at starbucks waiting for me to finish my classes..hm... hahah
He gave me LOADS of ideas of tekaning the groom. His suggestions were very funny and it is really too bad for SS
(the groom)
that I got so many ideas on hand now. We will have a good time laughing at him.
I have been repeating that song by Andy Hui and Evonne Hsu for the umpteenth time. Trying to learn the female parts. Kill me to let myself go off-key on that day.
Kiyo 到此一游 @ 10:46 PM