Monday, May 23, 2005
*~*~*~*~*~*~*~*~*~*~*~*~*~*~
Taiwan trip


Started for my preparations of my Taiwan trip. Surfed loads of Taiwan websites and forums on accommodations.. When you are going on a trip with 4 guys (or boys to be exact, including my bf) I will have to plan man.. or maybe I should just sit back and relax and follow them.. And I bet they will just bring me to people watch only.

I decided that we should stay in Rainbow Hotel.
That came to my conclusion after reading a lot of recommendations from forums and also thanks to kissesfrombeigirl from FP, she provided me some info and we chatted a little just now. She's going over in August.. :) This hotel although only 3 star, but i heard it is in the heart of Hsi Men Ding, good shopping and also good for people watching..And I believe it is within minutes to California fitness hsi men outlet! 7 floors! Must visit man...for their combat class if I still have strength after all the shopping. Wondering whether it will be conducted in Chinese.. must be interesting.

So I called rainbow hotel as i couldnt access their homepage.... suddenly my Mandarin became all 字正腔圆and I was trying to speak in full sentences of mandarin without any English words.

After confirming that it is Rainbow hotel...
ME : So... 多少钱 per night
(sounds like asking him how much he cost per night)
-_-''
Guy
: Huh!?!
ME
: 那住宿一晚的花费是多少呢?
(wah... chim sia)
Guy
:NT1980
ME
:请你帮我查一下七月**日有无预约
Than i realized my english is very bad.. my mandarin also CMI. Have to think for a while in order to string full sentences without adding any english words in between..
Really looking forward to this trip..Think I have to stop spending. Tell me in my face every time you see me!
Promised my sister I will change her photo at the side.. she said that it looks FUGLY.. hahha I hope it's much better now although it looks a little pixelated cos it's taken by her hp.
I changed my blogskin too! After much persuasion from Zen as I kept complaining that there is something wrong with my blog layout so now i changed to this sunset theme. I kinda like the colours now..
Was so bored yesterday that i tried tying the scarf i got from AE and took a whole SERIES of pictures with my web cam haha.. I realized One can have many poses in front of the webcam too. no no~ those pictures are for my eyes or maybe darren's eys only.. it's too funny, i dont want you all to die laughing.
I need another scarf in another colour.. pink just looks too sweet.YUucks!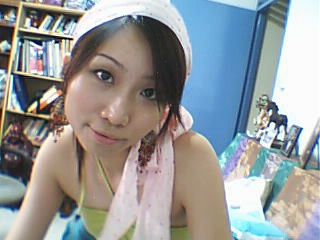 Kiyo 到此一游 @ 10:34 PM