Sunday, May 15, 2005
*~*~*~*~*~*~*~*~*~*~*~*~*~*~
How do I feel today?
Went to gym early morning, as usual.. Meech came back today for classes after 2 weeks of business trip. She brought this combat hand wraps that looks really nice... and you know why? coz it's in
LIME GREEN!
and she jokingly claimed that it glows in the dark...
Saw another gal wearing this lime green gym top too, damn nice too. Think i want to source for one as well.
Before our cool down track, she told us that she is leaving singapore NEXT MONTH for good. I believe she wont get the chance to come back anymore. Maybe occasionally, not for long term i think. Suddenly, the class turned ultra super quiet..think everybody hates to see her go. She is really a very good combat instructor. The other instructors dont seem to push us with "non-stop tracks" or "dont touch your towels!" or "push ups for everybody for every latecomer" kinda stuff and i enjoyed her classes everytime. Will really miss her classes man...
Still have a month...will attend all her lessons on saturday and sunday, rain or shine. Wanted to bring zen to her first combat class next sunday cos i learnt that she's a "sleeping member" there.
(& why is she a sleeping member? cos she hasnt been there for 6 months!)
But next sunday they are
CLOSED
for maintenance.. so zen, we have to fix another time.
Wanted to post more of Sentosa's pictures but really dont feel like blogging much today. So.. please wait till tomorrow when my mood's better. But here's the new bag i bought yesterday... It's quite big with alot of compartments for my stuff for gym.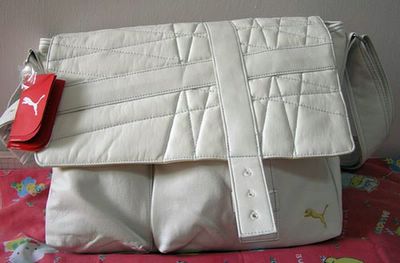 Kiyo 到此一游 @ 8:49 PM