Thursday, May 26, 2005
*~*~*~*~*~*~*~*~*~*~*~*~*~*~
Darren said I'm HIAO


in the picture taken by my webcam below. (Refer to Monday's post)


Eh... HELLO...!?!

4 years together and you don't know about the HIAO part of me?!?!

Tsk tsk tsk.. what have you been doing man...

But anyway, Gerald once said although we are together for 4 years.. it's cheating, cos he's not around for almost 2 years. Which is a good thing too. Cos if he is around, we will be quarreling for 1 ½ years out of the 2 years and may not last until now. haha

Anyway, I am not hiao la.. the pictures ARE deceiving.. those who know me will know my character so I need not explain.

No, no.. ENOUGH of hiao pics



How about ghostly ones?




~~~~~~~~~~~~~~~~~~~~~~~~~~~~~~~~~~

Came across a blog yesterday at FP, a podder posted a blog about pink shoe fetish and ask for podders opinions.
(strangely i couldnt find the thread again today...)

I roughly browse through her blog, but 3 things were clear

she is JUDE
(although one of my frens commented that she looks like a filipino maid... ) Hello!?! she is REALLY chio.. even girls drool for her..
SMART
(she is from RJ i heard, and to me.. RJ people are not human.. how can humans be so clever?!? I could never be in the same league as them) and she's

FILTHY RICH
(although she claims she isnt..her family owns 7 cars and she drives a jaguar, she dreaded going shopping with her mum in Shanghai and HK)

Some of the podders actually commented that she is hao lian or very show off which i dont really think so. It's her blog after all and she didnt asked it to be published in FP. But i'm glad somebody posted it cos i wouldnt have known it!

There are many different sides to a person. Happiness, Anger and Sadness. Maybe she just choose to blog about happier stuff and how fortunate of her to have so much money to buy branded goods. She might have relationship & friendship problems just like any normal girl may have. It's just that she doesnt need to worry about where the money for her next balenciaga bag comes from. (and i seriously never heard of "ba-len what ga" ok..I AM THIS SUA GU, the only brand i heard of that starts with B-A is BALENO)

Back to her blog, I envy her lifestyle & i'm happy for her. (bullshit)
But I'm not a wee bit jealous of her even though she has a prettier FACE, better BRAINS or more CASH in her wallet than in my bank account.

Reasons as stated

I have a bf who never fails to crack me up with all his lame jokes.
I have a dad who fetches me to and fro from work so that i save on my transport
I have a mum that does all the housework so that i do not have to do any
I have an Alphababe diva sista whose photos always make it to nightlife.sg
I have a personal stylist didi who gives me frank opinions on what looks AUNTIE & what's NOT

I AM CONTENTED
...
...
...
...
...
...
...
...
Although seriously i would like to have some of her shoes

For me, i blog mostly about happy stuff too. It's not that i dont have problems in my life, i do but it just not me to harp on it. So i would rather go shopping and take pictures of my loot when I'm moody. People will actually know when my mood isnt good when I shop alot alone....

And if you see pictures of more and more stuff that i bought for 3 consecutive days, then it's time for YOU to call ME to check whether i Tio 4D or whether i'm on the verge of breakdown/going berserk

okie my loot!
(i didnt tio 4D and i'm not on the verge of breakdown)
these are still affordable stuff.

i kinda regretted buying this turquoise crumpled zara skirt.. I'm comtemplating to get the Bebe one.. (that one will set me back 200 bucks poorer and while thinking about it, i hope it goes OUT OF STOCK the next time i go to orchard so that i wont need to buy it. )



bugis village is a nice shopping place. i got this yesterday at 5 bucks. i'm cheapo.
Dont tell me you got it at 2.50. I will KILL YOU. nono.. i will KILL that shop owner.



from bugis village too. The shop in front sells the same thing at 15 dollars
the shop behind sells this at 9 bucks.Can be used as belt or necklace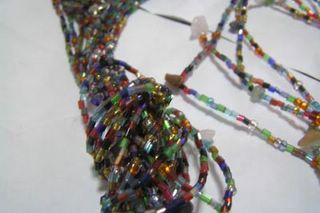 And i KIV-ed one top, one sequin bag, a scarf and sunglasses all under 30 bucks.. hoho.
Kiyo 到此一游 @ 10:49 PM