Thursday, May 12, 2005
*~*~*~*~*~*~*~*~*~*~*~*~*~*~
FOS
My Sis read my blog for the first time yesterday and mentioned in her multiply journal that luckily for her, there wasnt any of her childhood pictures in my blog.
So I dug out some of OUR pictures together so that she can have a fun time laughing at herself too...
But apparently, she is
NOT SO KEEN
at laughing and looking at those geeky pictures of us and SPECIFICALLY warned me through sms that there should be NO NERDY PICTURES of her appearing in my blog.
So... I shall just post some cute stuff. I had a HARD time looking for it.
That's my sis & me..
The teddy looks shocked!
This is where she writes her interesting life revolving around school, gym, zouk, tatts and God knows what else
http://lurvegwen.multiply.com
Sometimes I just wonder where she finds the courage to pay and get pricked by needles in all imaginable places. Just look at her new tatts, I lurve it..BUT that is what I WONT try (think i will faint, and OH YES, I'm weak)
This is what she wrote in her journal about me.
"wat she writes jus further proves that we are so damn similar in character"
"both of us are still kinda different in terms of sense of fashion (Sis: Jap/HK/Taiwan fashion, Me: Brit/US), music (Sis: Chinese songs, Me: English) and interests (she:more indoors, me: outdoors). She doesn't club.. hardly.. i think Mum can only stand one Gwen in the house... "
And she's right.. We are quite different!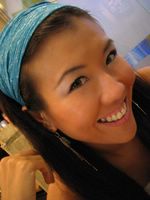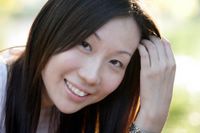 See! We are!
Had a hard time trying to find a similar picture with same pose same angle man....
I'm nice to my sis too. I touched up her skin! Than why do you think her skin look so glowy and smooth ar...
But one thing for sure is that we are both VAIN and we are SHOPPING Queens.
She buys more clothes, I buy more cosmetics and all sorts of skincare
Loot of the Week.
It is ALL THINGS GREEN again.
my Lime green tube
BILLABONG visor with pale GREEN patterns
I seriously need to get a pair of nice sneakers, an album to store my photoshoot pictures, my aim is by next weekend.
Kiyo 到此一游 @ 10:07 PM