Tuesday, May 24, 2005
*~*~*~*~*~*~*~*~*~*~*~*~*~*~
Scrapbook
Read an article in digital life about scrapbook and i remembered about my own scrapbook.
It is now lying in one corner just beside my computer with a pile of dust in it.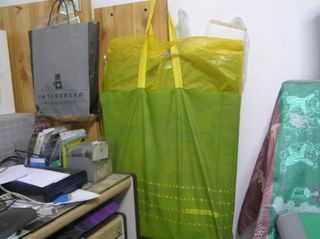 Think Lee will be laughing at me if he sees this cos i have been harping on doing my own scrapbook since last year and they went together with me to the art and craft shop where i spent almost 80 bucks on papers, mats, stickers, glue etc. And it is still untouched even though most of the things are there. Eh... it is NOT TOTALLY UNTOUCHED lar... i have pasted the double sided tapes behind my photos and cut some of the borders and papers okie...
All my 家伙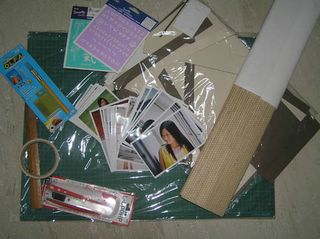 This is supposed to cover the binding part



I need to finish this! Or maybe i should just get a ready-made album and stick the photos inside.. Arrggghh!

Was revamping my blog, uploading pictures yesterday afternoon till almost midnight and trying to figure out how to type in chinese. I wanted to type in chinese long ago, but i just couldnt solve that problem so i left it as it was. Luckily, I told bengtuan about it yesterday. He wrote me a meta tag and asked me to insert it in my html. And tada~ it's done! i should have asked him long ago. Bengtuan, thanks!

Was talking about the wedding stuff, renovation...
(was thinking how i should renovate my flat if i get one, another guy friend is planning his renovations too. seems like we have common ideas . The 3 of us wants parquet platforms near the window! i want carpeted bedrooms and a nice classy sofa by the window with long curtains.. wah.. or maybe install some studio lights than i can take pictures everyday liao haha)
and taiwan trip with xin just now as his hubby always goes to taipei for business trips. He is going to write me a list of must visit places and maybe how to get there as well. Great!

Just want to share a meaningful chinese poetry i heard on tv today... For those who are tormented by love and relationships...

世界上最遙遠的距離 不是生與死
而是 我就站在你面前 你卻不知道我愛你
世界上最遙遠的距離 不是我就站在你面前 你卻不知道我愛你
而是 明明知道彼此相愛 卻不能在一起
世界上最遙遠的距離 不是明明知道彼此相愛 卻不能在一起
而是 明明無法抵擋這股想念 卻還得故意裝作絲毫沒有把你放在心裡
世界上最遙遠的距離 不是明明無法抵擋這股想念 卻還得故意裝作絲毫沒有把你放在心裡
而是 用自己冷漠的心對愛你的人掘了一條無法跨越的溝渠
~取自泰戈爾~
Kiyo 到此一游 @ 9:17 PM