Monday, April 16, 2007
*~*~*~*~*~*~*~*~*~*~*~*~*~*~
Weekend
was kinda sick.. It must be the
yan su ji
I ate on Friday. =(
it scalded my throat and sure enough, it turned inflamed. Slight fever running now but I still operate in perfect condition!
I have to... going Jakata for 5 days from tomorrow onwards to attend a meeting.. The meeting last for like 3 days, hopefully it will be interesting and useful. Even had the doctor to prescribe me sleeping pills so as to sleep better in a foreign country, a foreign bed, all by myself =(
Saturday morning ppm and me attended a lingerie workshop and it was pretty fun. It's actually a workshop to launch their deep V series and at the same time teach us how to wear bras correctly to have the UP UP factor.
Darren was still suaning me on friday...
"huh!? pay 10 dollars to learn to wear bra? wear so many years liao still need people teach you?"

"why cannot?!"

"like machiam Renoma (seller for men's underwear) organize guy's workshop to teach people how to wear underwear lorrrr"
=_____=
it's NOT the same nor.. the workshop was pretty fun, there's nice lacy lingeries to see and touch, food to eat, and a goodie bag filled with vouchers and beauty samples!! ha! the whole bag is worth more than 10 bucks horkay...
but the lingerie we bought was over 80 bucks sheesh.. so little cloth, so so expensive. I got the deep V pink with black lace before this workshop so it gave me another excuse to get another set. SO... i got a light pink in cream colour very SWEET!! we posed with our lingerie.. not
IN OUR LINGERIE
=p
~~~~~~~~~~~~~~~~~~~~~~
IKEA time.
Our first time to IKEA tampines. We passed by Premiere @ tampines and saw our future love nest. TADAH!! It is now 2 storeys high
=____=
when will it reach 15th.....
heez
There's simply ALOT of things to buy in IKEA for solemnization table decor. OKAY.. any kind of decor, there's alot to choose from. Finally decided on how I want to decorate that table! From silk flower petals to scented candles.. there's so many decorations there to use!
Going to decorate that plate-like thing with lace and ribbons and set it in the center of the table like a centerpiece, complete with petals, pearls and MAYBE feathers and all.
Please give me inspiration haha if you guys have any.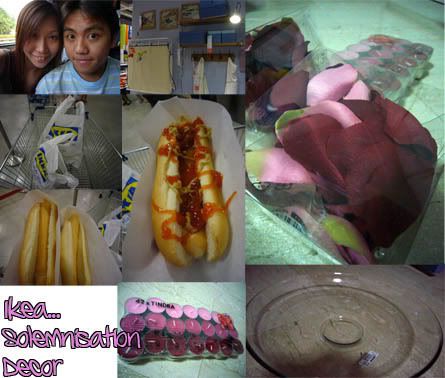 We ate the hot dogs there! cheap and good.. and then we went to the cafe to continue our 2nd round of meatballs and chicken wings, not to forget fries too. yummiz.. oh Boy, we can eat!
Oh yah, we are going to repaint my room very soon, in the blue that is shown on the 2nd picture. We both lurrve blue colour.. =D
Going to Jakarta tomorrow.
He just gave me his 护身符 that he has been carrying for 10 over years and asked me to carry it whereever i go..
So touched... until i want to cry liaoz.
guess it is these little things that made me love him more & more for these years.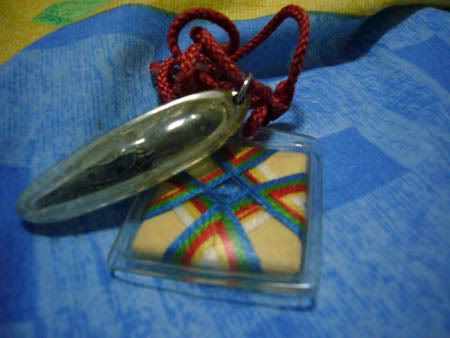 Take care people,
me have to take care too!
Labels: Wedding
Kiyo 到此一游 @ 8:52 PM