Monday, April 02, 2007
*~*~*~*~*~*~*~*~*~*~*~*~*~*~
I'm very happy today.
cause today marks the end of my 1 year course at SHRI.
And if nothing goes wrong, after the submission of that 5000 words essay :( to the lecturer by end of this month, I will officially graduate!
There's no Gold medal and I didn't really pass with flying colours.. but still colours lahhhh of some sort. haha For your information, only the top student get a gold medal.. almost IMPOSSIBLE for me to get.
This year of study had not been easy but made alot of new friends who share the same kind of work and see the same kind of things.
Will I pick up my books to study for related courses again?
Maybe. It's tough studying part time but very enriching.
~~~~~~~~~~~~~~~
Over the weekend, Darren's mum (my future MIL) brought me to buy the si dian jin. The tradition of giving si dian jin in the old days when matchmaking and arranged marriages were a way of life in China, the bride and bridegroom were not allowed to meet until the wedding night.
Since a lot was build on trust, the bridegroom would show his intentions were sincere by sending a gift of gold jewellery to his bride-to-be, 14 days before the wedding. This gift consisted of a necklace, a bangle, a pair of earings, and a ring, the four touches of gold or Si Dian Jin.
She's really nice, wanted me to choose something I like, so we went to Poh Heng to choose something to match the Kua2 i will be wearing. Some people feel that wearing kua2 looks old, but I think it's not everyday you can wear a chinese traditional costume and the experience should be quite special.
One of the earrings I chose. Very cute, i like the way the Xi3 is made with the heart shape.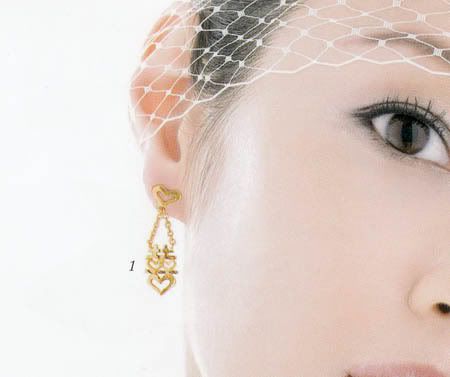 ~~~~~~~~~~~~~
Uploaded Darren's childhood pictures on our wedding website. I realized I don't have much childhood pictures...cos my mum took too many for my sister, when it's my turn, I don't have ler.
boohoo hoo
.. Or maybe simply, I AM JUST NOT CUTE ENUFF, hur hur hurr. He has LOADS, HEAPS of bb pictures though. He was really really cute then. keke
I lurve this pic the most
so cute horr.... the leaf... hahah
Kiyo 到此一游 @ 10:37 PM