Friday, November 17, 2006
*~*~*~*~*~*~*~*~*~*~*~*~*~*~
My mood is HIGH!
Finally, yesh.. FINALLY, i bought something.
Asked someone to help Custom Purchase some beauty stuff from Japan.
My regular sunblock..which i finished 3 bottles. Lurve the texture.
and it arrived. =)
yoohoo! just in time....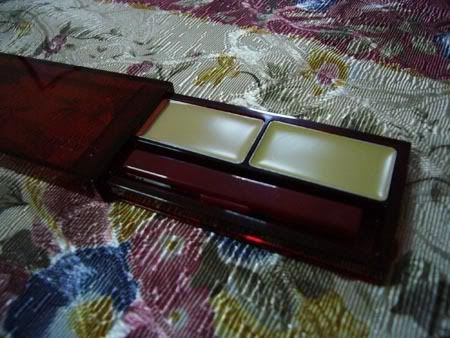 to cover a fiery big pimple.
This concealer is the highly raved "人手一盒" in Japan. Have been thinking to get this for a while, but didnt cos there were still some left overs of other stuff that does the same job.
Was thinking about whether to get Ipsa (cos it's easily available and heard the raves too at some taiwan variety show) or this.. but decided to give this a try!
The kind person, haru, even included the samples that the counter gal gave her when she helped buy my concealer. So sweet of her. *grins*
And now, i have extra stuff to try tomorrow.
So excited to use this. Hope it wont fail me.
~~~~~~~~~~~~~
Darren laughed his head off this.. cos he's an engineer, and i'm doing HR now.
A group of engineers and a group of HR people take a train to a conference.
Each HR person holds a ticket.
But the entire group of engineers has bought only one ticket for a single passenger. The HR people are just shaking their heads and are secretly pleased that the arrogant engineers will finally get what they deserve.
Suddenly one of the engineers calls out: "The conductor is coming!".
At once, all the engineers jump up and squeeze into one of the toilets.
The conductor checks the tickets of the HR people.
When he notices that the toilet is occupied he knocks on the door and says: "Ticket, please!"
One of the engineers slides the single ticket under the doors and the conductor continues merrily on his round.
For the return trip the HR people decide to use the same trick. They buy only one ticket for the entire group but they are baffled as they realize that
the engineers didn't buy any tickets at all
.
---by this time, i was thinking what the engineers are going to do.. =___= .. haizz---
After a while one of the engineers announces again: "The conductor is coming!" Immediately all the HR people race to a toilet and lock themselves in.
All the engineers leisurely walk to the other toilet.
Before the last engineer enters the toilet, he knocks on the toilet occupied by the HR people and says: "Ticket, please!"
And the moral of the story?
HR people like to use the methods of the engineers, but they don't really understand them.
Insulting....
=P
Labels: Beauty Buys
Kiyo 到此一游 @ 11:11 PM