Friday, November 03, 2006
*~*~*~*~*~*~*~*~*~*~*~*~*~*~
Crazy about Cupcakes!

Being surfing on SOME drool-inducer,sinful stuff recently and see what pictures I found..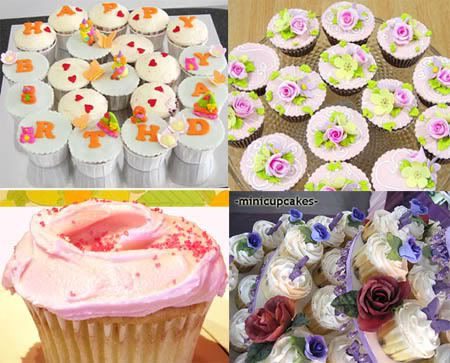 They are so sweet, you can even combine them to make into messages or cakes.

*hint hint*

yah rite, my birthday is like 269 days away..

I want to learn to bake them!
think it's a nice present for friends and as a first month gift.
xin's baby is coming soon, hopefully can learn it in time.
Actually there was this lesson i missed in september =( wat a pity...

so in the meantime... just drool at the pics..

Click ~ here ~ if you are drooling for more.. I think Cheryl's cupcakes are so pwetty!!

----------------------------
Projects are eating up my time...

2 projects due in late november for my HR course and not to forget, i promised an ex colleague of mine that i will make a collage for him to print out in album style for his wedding.

This is my first time doing something like that and have no experience at all in this.
It wont be fanciful or fantastic, but it definitely will be full of my sincerity and best wishes to them.




Already have some concepts in mind, and with some tips from gerald and bt, guess work will flow smoothly.
Busy to the neck!!
But I'm enjoying everything =D
Enjoy ya weekends with more cakes!
Labels: Food and Events
Kiyo 到此一游 @ 8:27 PM