Monday, November 20, 2006
*~*~*~*~*~*~*~*~*~*~*~*~*~*~
I have an early Xmas wish....
that is to...
get an oven!! muahhaha
gerald says it's a very auntie wish. hng~ no cookies for yah
The cupcake class was very fun and it was nice meeting the galz from Cozycot and Jes where there's a thread on this baking class. (long time no see :))
and what was better was.. Mrs Fong's house...
I lurveee her house cos it's at marine parade and has an unobstructed view of the sea! Very peaceful, very serene and very calm.
We did 3 types of cupcakes and 2 frosting. I seriously prefer the cream cheeze frosting cos the other one is too sweet for HUMAN CONSUMPTION.
Saw the teacher loading spoons and spoons of icing sugar into the mixer.
yucks...
Started off doing the red velvet cupcake which is chocolate base. Mrs Fong is rather fast but we still enjoyed ourselves in the confusion haha.
many hands at work.. i'm working oso horkay. took this pic cos we wanted to see the colour heehee.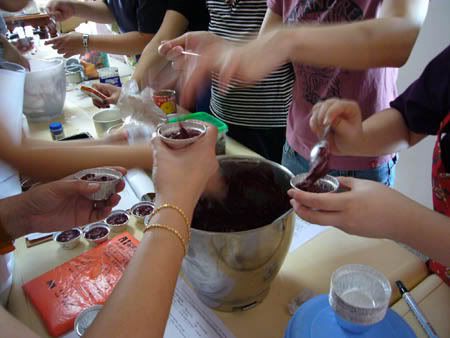 colour looks gory but it taste good! most importantly, it's not really difficult to make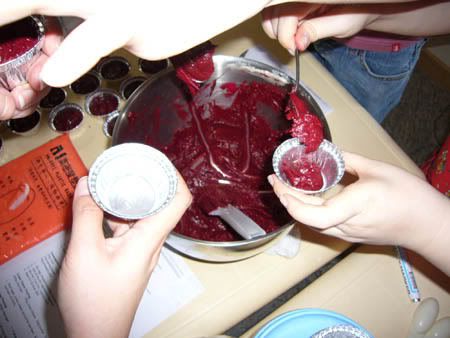 The end product!!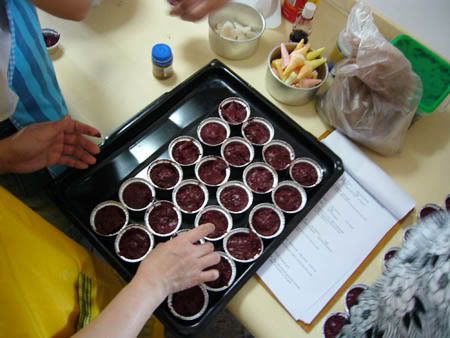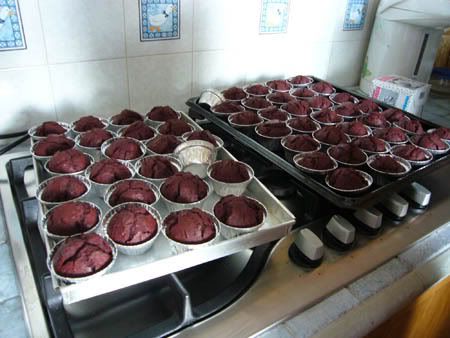 Another kind of cupcake we prepared.. think this is the fruity one. She used liquor to soak the fruits for 1 month! smell heavenly.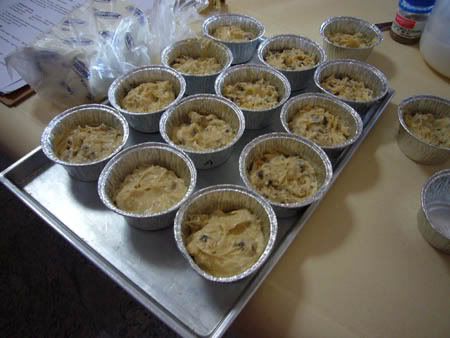 And we even learnt how to make snowman using mashmallows.. i drew one with a tongue sticking out, and the other with eyelashes.. hee hee but i guess the "mascara" on the eyelashes i drew smudged and became a total mess. haizz.. i threw it away. =(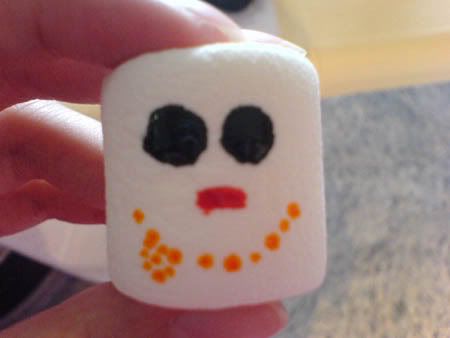 kinda fugly snowman's head with oversized eyes.
After frosting, it looks like this.. tada!
our teacher's work.. just in time for the season hee hee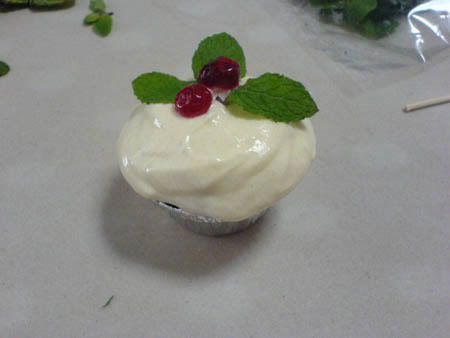 we frosted 2 each. and those are mine. One of them was kinda messy work =p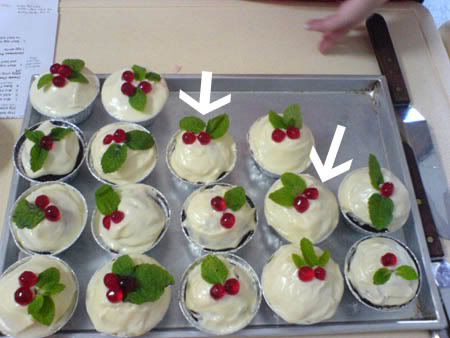 Pwetty pwetty santa claus! Didnt learn this cos i knew it will be very sweet~ this was the one that the teacher kept adding icing sugar into the mixture to make the icing creamier.. gosh.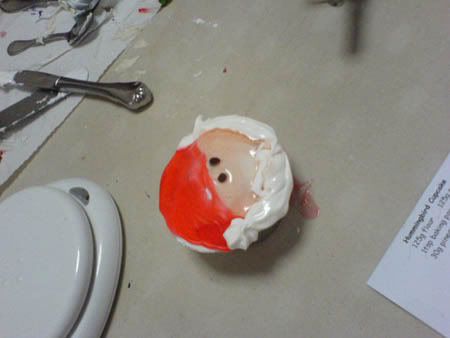 Didnt managed to finish the class cos was rushing off to a wedding show at Traders. It's quite nice, kinda like their temasek ballroom and during the event, one guy even proposed to his girlfriend on stage, flowers and ring in hand.
It's quite touching
(i nearly cried lah.. as usual, any little thing will make me cry)
but he didnt really know what to say(maybe very nervous), and the host kept making fun of him too. Quite a sight.. hee hee
And alot of freaking tall models! even i hate to stand near them. They are like 1.8m tall.. Are they wearing stilts inside those gowns!?! Darren stood very far from them too hahah. Always feel that the models look very good with bones jutting out here and there.. really the 骨感. hee heez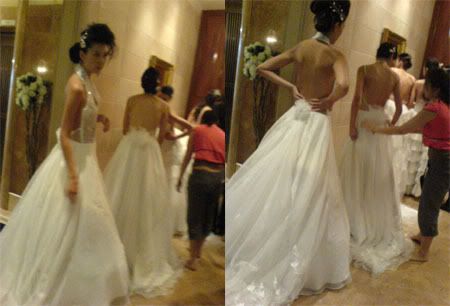 ANYWAY, didnt regret going for the wedding show cos i won something!
YOOHOO!!!
haha imagine my surprise when my name was announced among at least 80 odd couples and only 12 prizes were up for grabs.
Didn't get the grand prize of some $2,888 bridal package from some bridal studio but i was still beaming from ear to ear. And the prize was like only
2 bottles of red wine!?
hahah
BUT
.... the taste of winning a LUCKY DRAW is good no matter how small the present is.. hahah
That was 28 bucks well-spent.
we got a 5 course lunchie and won 2 botts of red wine.
Seriously considering Traders hotel now, maybe it's our "lucky" hotel. buhahhahah
our gian beng face =D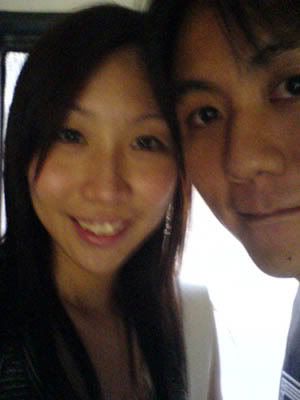 Labels: Food and Events
Kiyo 到此一游 @ 9:54 PM