Tuesday, July 04, 2006
*~*~*~*~*~*~*~*~*~*~*~*~*~*~
Ki can COOK!!
Hypnotism at Highest Level
yeah.. Just finished Mrs Catherina Hosoi's class on the Japanese Bento set with Pita Bread. Really delicious! We were taught 4 recipes and it was really an interesting class and after that, we just sat down to eat what she taught us, a lovely way to end the class keke.. to satisfy our hunger pangs.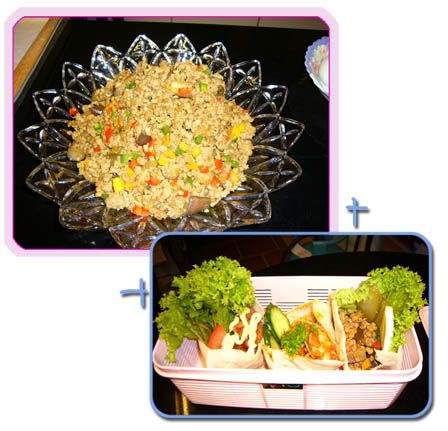 Slurp~
That is
NOT
Cha Png
(fried rice) me and Darren cooked that day okay, it's minced meat stuffing for the Pita Bread. The Pita bread was really soft and after cutting, it serves as a pocket to stuff any kind of fillings inside. She just made them sound so easy to make! =D
Going to try the Japanese style spaggetti this weekend if I could get that sauce..
spaggetti can be used as to stuff the pita bread too.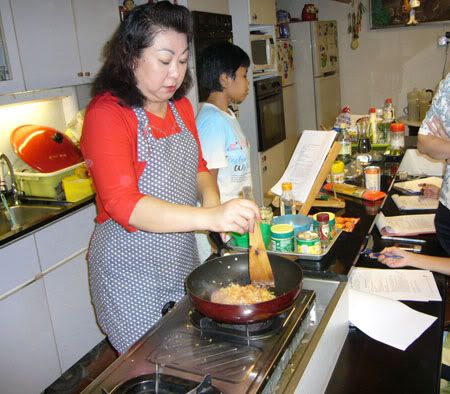 Everybody busy taking down notes..
I even took a video on
"how to roll the dough"
Chao Kiasu.. hahahha
*Ki continues to hypnotise....herself*
Before rushing to Catherina's place for cooking class, saw a group of people crowding around a stall with boxes and boxes of cookies/chocolates. Being me, I went over to take a look and saw this!
....
....
....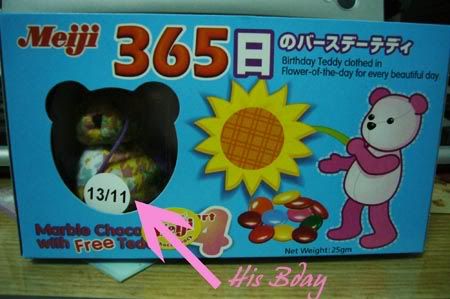 So cute nor~!!
365 days Birthday Teddy Bear with Chocos.
0__-''
Supposedly they should have a teddy bear for each day. So Shi-pear-cial right~~
But the catch is, you have to search the date yourself. There is no order of date or month packed in each carton or what. It just depends on your luck, or more of your PERSEVERANCE and large amounts of PATIENCE as well, to get the date you want.
0__-''
I tried my luck too.
Alas, impatience is in my name.
I was in a hurry too nah..
For 15 mins..I ramaged through the cartons and boxes with like-minded
childish
adults, nearly late for my cooking class too. Was on the verge of giving up to find Darren or my birthday bear, I found Darren's!! going to give him tomorrow!
Think he will laugh and laugh and laugh..
But come to think of it, jostling with the crowd, full-grown adults, mind you. NOT
ginna
okay to find this stupid bear with a sticker that bears your birthday on it....I should have just picked some July or November bear and print out the sticker myself.
TSK*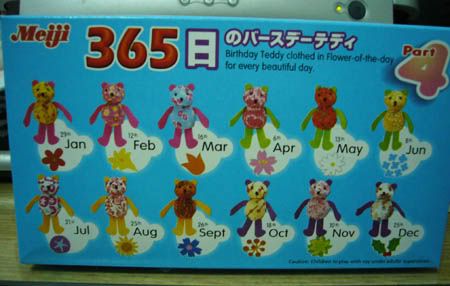 Anyway, the inventor of this packaging is really good.
Alot of people were there today, quite a number of guys too.
Definitely buying for their girlfriends.. =P
Labels: Food and Events
Kiyo 到此一游 @ 1:20 PM