Saturday, July 08, 2006
*~*~*~*~*~*~*~*~*~*~*~*~*~*~
This is a one-for-one month
I have been talking about food, food and more food this month.
Let's dedicate this month to non-stop feasting and indulging!
and why is that so? cos DBS is so good to us by launching one-for-one buffets this month in my bday month!!
~ DBS credit card buffet promos ~
Darren said I lost weight when he came back.
There's good reason to be. There's nobody to go buffets, restaurants, suppers or watever with..~
I usually gain about 3kg when he is back. And I think he gains more cos he will have to finish up watever i cant finish. HA!
We went for our 1st one-for-one buffet dinner at Grand Plaza Park Royal.
Frankly speaking, it was nothing fantastic but the idea of either one of us getting to eat FREE just drives up my mood. haha
value for $ i would say.. their sashimis were really fresh and their deserts were great.. the others were kinda normal.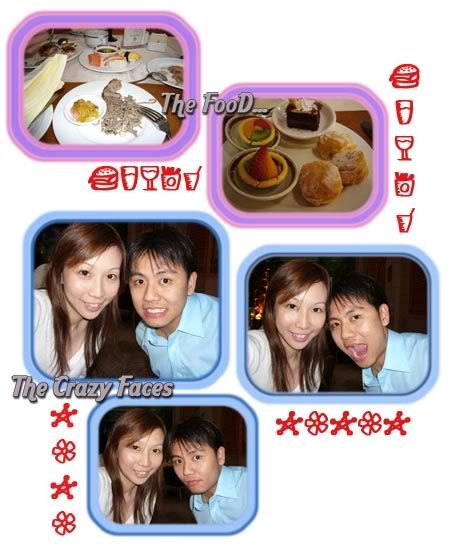 I want to go rendevous for weekend hi tea!.. yeah this weekend. hohoho
The list just goes on.. and on.. and on.
Maybe I will turn into this at the end of July.

Dis piggy looks darn ugly..
Oh ya.. happie mood encourages better appetite~
Misslovers
have sent our stuff~ but there are some clothes that are not with this shipment as they are OOS.
Requested her to send the first batch over as i just dont want her to hold other items back.. she may hold and hold or even worse, sold the available items to other people and they become out of stock again.
Of course I'm not saying she's such a bad seller la.. but there's a possibility that it may happen..
Just checked my credit card bill, the exchange rate difference can pay for the increase shipping charges, so i doubt we need additional funds =D
laterzz!...off to my projects and classes.
zzzZzzzzz
Labels: Food and Events
Kiyo 到此一游 @ 9:17 AM