Thursday, December 29, 2005
*~*~*~*~*~*~*~*~*~*~*~*~*~*~
Another 2 more days....
we will say
SAYONARA
to 2005 and
EMBRACE
2006 with joy, laughter and more
GREY
hair.
I have been reading my blog entries for the past year and I still smile over it cos I sounded really crappy and dont noe why I seem to move to the "serious" side nowadays. 老了..Crap 不起来了.. haizz. Cannot imagine that I changed so much within a year ~
Anyway, it has been a fulfilling year for me. Just a recap of what I have accomplished this year...
Things to remember...
1. I took up exotic dance, did a stint of lap dance and had loads of fun being in the Amateur Team
2. I went for photoshoots that made me realised that I look like SAI in photos and those that are not that SAI are always decorated by xdd until it looks like SAI again.
The masterpieces of xdd. I almost have one for each theme..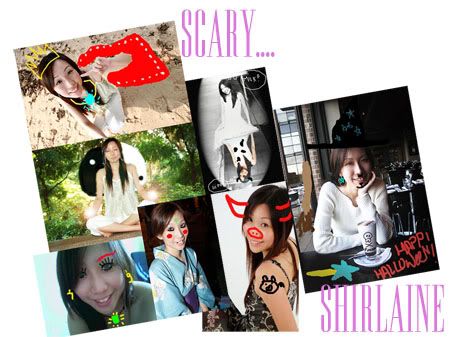 On Love...
5. I went to Perth
(AGAIN!?!)
to visit Darren
6. I had a happy time planning for my bangkok trip starting in a FEW DAYS TIME!!
Others

8. I sang at my good friend's wedding which was quite an "experience" and which also means...
THAT
will be the
LAST TIME
I make a public stage appearance for ANYBODY's wedding.
9. 60% of my blog entries were about 女人我最大 & cosmetics
10. I learnt to appreciate everybody around me and will think twice before I complain about my life
(okie i only think twice and then I'll start complaining again)

11. I can operate the sewing machine with ease NOW. hur hur hur
Things to forget...

1. Planned to visit Phuket & Taiwan but both were cancelled due to last minute obligations
2. Darren have to leave me for another year =(
(another 1/2 year more..)
3. I havn't finish my scrap book
(blog entry dated May 24th 2005)
and I intend to leave it till May 2007. -_-
4.
Orchehs
and
破皮
are inevitable after dance classes.
5. Had loads of trouble with my wisdom tooth and the TMD (TemporoMandibular Disorders) syndrome
6. Signed up for 5 treatments at
Rustic Nirvana
for their body massage and milk bath
(their service SUCKS BIG TIME dont go~)
Gawd~ I just summed up my whole year in just a few sentences..
I dont have any plans on the last day of 2005 but will be going to CUT, COLOUR and HIGHLIGHT to change myself into a BRAND NEW ME for the New Year. YAYyyy! Dis time.. it is gonna be drastic, people.. i need an image overhaul~
Dance our way to 2006!!
Kiyo 到此一游 @ 9:30 PM