Sunday, December 25, 2005
*~*~*~*~*~*~*~*~*~*~*~*~*~*~
How can I ever forget...
My camera!!! Was still happily recharging my camera but I 竟然 forget to bring it to the SJ Xmas party?? so.. I have to resort to.. using other people's one!! haha Can you see faintly in the background.. the owner of the camera shouting....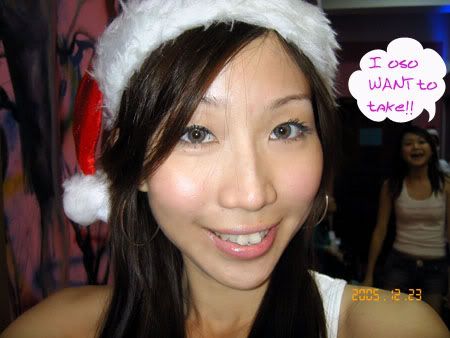 yesh. the theme is SCARY SANTARINA..
Some normal ones..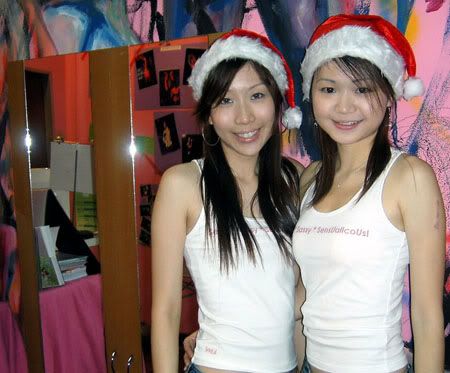 Yaz and ppm got some feathers for our team to wear during our silly scandalous performance...so that we can hide behind them. It looks rather familiar.. hm.. where did I see it before...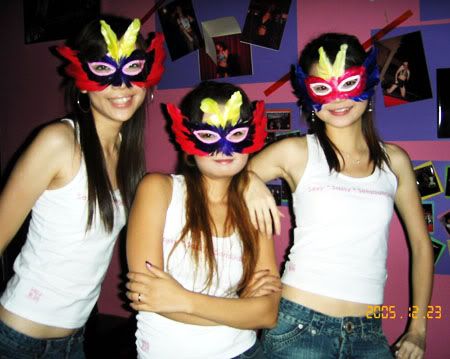 ...
...
...
...
...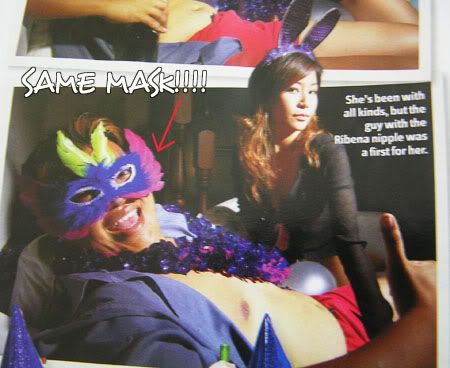 FWAH!! same one!!.He looks damn happie wearing the mask...Just Like us...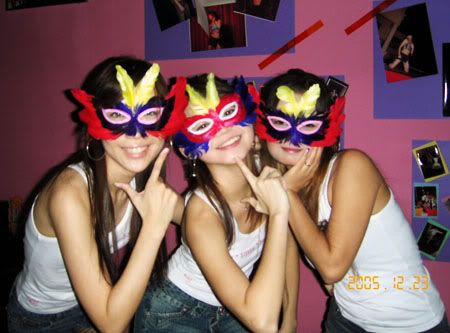 2 james bond and 1 demure bond girl. keke
da feathers are tickling me...TSK* -_-
So the party started with a bang of our SILLY SCANDALOUS performance. Nobody was amused as we strut around trying VERY HARD to amuse them with our awkward movements,
Mr Bean
walking style and
LEE XIAO LONG
shrieks.. All I saw was awkward stares and even Yaz's husband
(who was a freelance dancer)
was shaking his head in disbelief.. And I felt I could hear something over my head...
kaw kaw kaw....
(growing louder)
KAW KAW KAW....
(& LOUDER!!)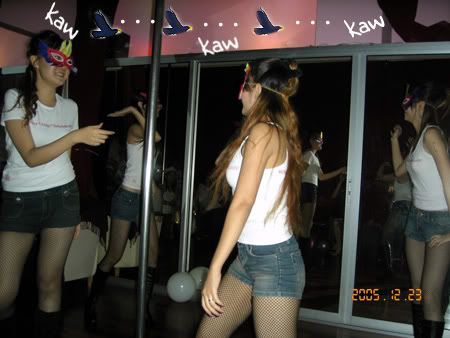 -__-!!! & I tried to shoo them away at the back.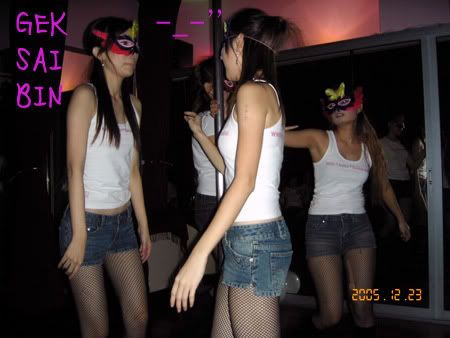 We had games, Miss Santarina Pageant or in fact Mr Santa Pageant cos not many gals took part and the guys were more game to have fun. In the end, 3 finalists emerged. They were asked to do sensual walk and free style dancing. Yaz's hubby was a reeaaall sporting person and started to gyrate his body. hoho.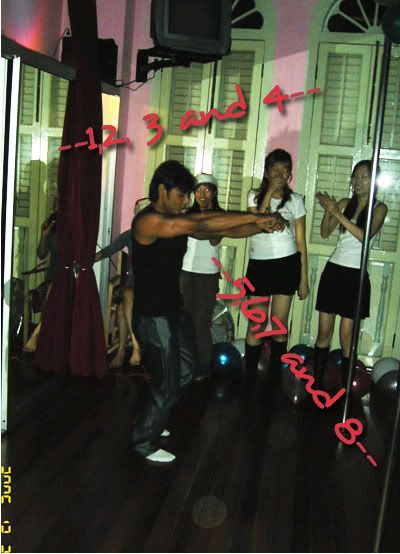 Winston mah... Clap until 手酸 oso LOwan to Lance. He prefer to lean against the mirror. His friend started to lance after some persuasion from the crowd. Not too bad at all!! keke.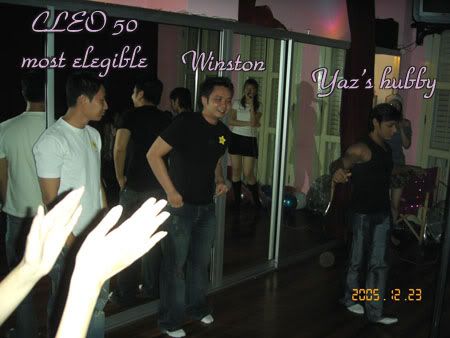 Next came our Janet Jackson dance.. Everything was still fine till the last pose where me n peimin was supposed to tilt our heads. We became a pair of SIAMESE twins in just one song.
WE WERE STUCK AT OUR HEADS.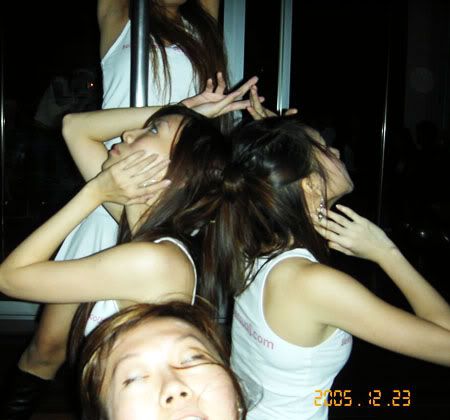 (everybody must be wondering wth i was doing hugging my cheek...the TMD syndrome acting up again?)
NO!! cos I knew there's bound to be people taking pictures.. I just want to cover my BROAD face as much as possible. 这招厉害 bah~ dont even need cosmetics to acheive dat.
Okie back to the siamese twins..Apparently, it's either her hair pin caught my hair or my hairpin caught her hair. We just couldnt move from each other even after much tugging.
CAN YOU IMAGINE HOW SI-TOO-PID WE LOOKED
when the other 2 gals left and we were still stuck there!?! we struggled for a while until I decided to give it a good pull. haizz.. there goes my hair.
There wont be any DANCE PRAC on Saturdays for next week! yoohoo! Da gals can take a good rest and as for me, I can just let my poor knees recover their oliginal colour.
(which is skin colour of course, now currently, they still look blue n black)
They will resume on the 7th January but I will resume the following week cos I'm going to Bangkok remember? hee hee
Kiyo 到此一游 @ 11:18 PM